February 2, 2022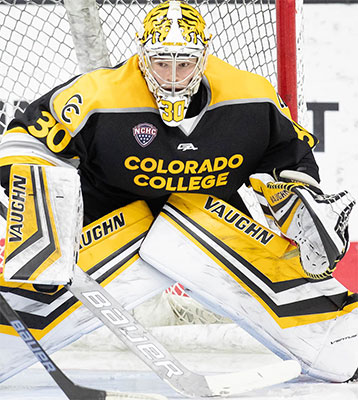 Atlantic Hockey Rookie of the Month and Week: Clayton Cosentino, F, Air Force (Aberdeen Wings) - Air Force's Clayton Cosentino recorded a career-best three points in the Falcons' series with Army West Point this weekend. The San Carlos, Calif., native registered two points on a goal and an assist in Friday's series opener and picked up a helper in Saturday's overtime win over the Black Knights. Cosentino led the Falcons with 22 faceoff wins in the series and won 56.4 percent of his draws. On Friday, his goal cut the Army lead to two late in the second period. On Saturday, he forced a turnover in the Army end and had the lone assist on Air Force's first goal. He is Air Force's top freshman scorer on the season with 15 points on four goals and 11 assists and leads Air Force with 248 faceoff wins this season while winning 59 percent of his draws. This is his first AHA weekly honor this season.
Atlantic Hockey Goalie of the Month: Jake Kucharski, AIC (Janesville Jets) - AIC's Jake Kucharski was undefeated in January and backstopped the Yellow Jackets to a dominant month. The Erie, Pa., native posted a .920 save percentage, stopping 149-of-162 shots in seven January games. He registered a 1.86 goals-against average and finished with a 7-0-0 record and a 6-0-0 mark in Atlantic Hockey, picking up two wins over Air Force and Holy Cross and one each against Sacred Heart and Mercyhurst as well as a non-conference victory against Connecticut where he was the player of the game. He authored his lone shutout of the month in a 2-0 win at Holy Cross on Jan. 8. This is Kucharski's first AHA monthly honor of the season.
Atlantic Hockey Defensive Player of the Month and Week: Zak Galambos, D, AIC (Johnstown/Janesville) - AIC's Zac Galambos was brilliant for AIC in the Yellow Jackets' split with Holy Cross. In Thursday's win, the Walnut Creek, Calif., native notched the primary assist on the deciding goal and sealed the game with an empty-net tally. He followed that up with another assist Sunday in AIC's comeback effort. Galambos posted a +3 rating in the two games and blocked two shots on the defensive end as well. This is his second AHA weekly honor of the season.
CCHA Rookie of the Month: Mattias Sholl, G, Bemidji State (Fairbanks Ice Dogs) - Mattias Sholl posted a 3-5-0 record during the month of January, including a 2.75 goals against average (GAA) and a .902 save percentage (SAV%). Sholl made 184 saves on 204 shots faced and stopped a career-high 38 saves at Michigan Tech on Jan. 29. Sholl was also named the CCHA Rookie of the Week on Jan. 10.
NCHC Rookie of the Month: Max Sasson, F, Western Michigan (Brookings Blizzard) - Sasson had a breakout month of January, helping WMU go 3-1-0 in four games. He compiled five points in the month, tallying at least a point in all four games to average 1.25 points per game, tops among NCHC rookies in the month. Sasson potted pair of goals and dished out three assists in January. Sasson opened January with two assists in a 4-1 win over then-No. 9/10 North Dakota on Jan. 21, assisting on the Broncos' first and fourth goals of the game, for his second career multi-point game. He then netted the game-winning goal on his first career short-handed goal the following night in a 2-0 win over the Fighting Hawks. He was named NCHC Rookie of the Week following his work against UND. Sasson scored his other goal of the month in a 5-4 loss at then-No. 7 Minnesota Duluth on Jan. 28. He then closed January with an assist on the overtime game-winner in the 3-2 victory over the Bulldogs the following night.
Atlantic Hockey Player of the Week: Daniel Haider, F, Army West Point (Fairbanks Ice Dogs) - Army West Point senior Daniel Haider returned from injury in elite style, recording a hat trick at Air Force on Friday night. The Anchorage, Alaska, native became just the fifth Atlantic Hockey skater to record a hat-trick and the fifth Black Knight to net three goals against Air Force. The forward added an assist in Saturday's series to finish with four points on the weekend. Two of his three goals against the Falcons came on the power play. This is Haider's first AHA weekly honor of the season.
Atlantic Hockey Goalie of the Week: Kyle McClellan, Mercyhurst (Austin Bruins) - Mercyhurst sophomore Kyle McClellan set a career high in saves, stopping 43-of-44 shots in Mercyhurst's 4-1 win at Niagara on Friday. The Manchester, Mo., native went on to stop 32-of-33 shots against the Purple Eagles in Saturday's series finale. He finished the weekend with 75 saves on 77 shots for a 1.01 goals-against average for the Lakers. His 75 saves in the series ranks as the third-highest total for a series in Atlantic Hockey this season while his 43 saves in the series opener is tied for the second-best single-game total among conference netminders in 2021-22. This is his first AHA weekly honor this season.
B1G First Star: Jakub Dobeš, G, Ohio State (Topeka Pilots) - Backstopped the Buckeyes to a 1-0-1 weekend at Penn State, recording 97 saves for a .980 save percentage and a 0.96 goals-against average in 125 minutes. He stopped 46 of 48 shots Friday as the teams tied 2-2, before turning aside a career-high 51 shots for a shutout in the series finale. He has 30 saves or more in each of the last eight games and his 51-save outing marks the second-best performance in the nation this season behind Michigan State's Pierce Charleson (54 saves vs. Minnesota on Jan. 8, 2022). He claims his fourth career weekly honor and his second in as many weeks.
CCHA Defenseman of the Week: Luke Farthing, Ferris State (Chippewa/Brookings) - Ferris State sophomore defenseman Luke Farthing netted his first goal of the season Friday to cap the Bulldogs three-goal second period. The sophomore blue liner was a plus-2, blocked four shots and added an assist on Ferris State's lone regulation goal Saturday.
CCHA Goaltender of the Week: Seth Eisele, Lake Superior State (Lone Star Brahmas) - Lake Superior State junior goaltender Seth Eisele backstopped the Lakers to a CCHA road split against the No. 20 Northern Michigan last weekend. In Friday's 6-1 win in Marquette, Eisele stopped 40 of the 41 shots he faced from the Wildcats to earn his sixth win of the season. The Laker netminder was named the First Star of the Game as he was stellar in net, including a 22-save effort in the second period against NMU. Eisele followed with another solid performance in goal for the Lakers in Saturday's 2-1 overtime loss. The Lake Elmo, Minn. native made 33 saves for the Lakers. Eisele closed out the weekend with 73 saves on 76 shots faced in 122:30 minutes played, totaling a.961 save percentage and a 1.68 goals against average in the series.
Hockey East Goalie of the Week: Darion Hanson, UConn (Lone Star/Aston) - Darion Hanson (Gr., G; East Bethel, Minn.) went 2-1-0 in three out- ings week, including a 1-1-0 mark over the weekend at the Connecticut Ice Tournament, making 53 saves on 55 shots he faced against his in-states rivals. He shutout both Yale and Quinnipiac for two periods, toppling the Bulldogs in a 5-1 win, before holding the Bobcats scoreless into the third period and allowing just one goal against in an eventual 2-0 setback. On Tuesday, he denied 18 Merrimack attempts in a 3-2 Hockey East victory.
NCHC Goalie of the Week: Matt Vernon, Colorado College (Aberdeen Wings) - Vernon started both games against No. 16 Omaha last weekend, backstopping Colorado College to a series split. On Friday, he made 31 saves, tying a season high, while allowing only a power-play goal in a 4-1 victory over the Mavericks. It was his first win of the season in net. The next night, he made 27 saves in 3-2 defeat. Vernon finished the weekend with 58 saves on 62 shots faced for a .935 save percentage and a 2.04 goals-against average. He also helped kill two of three Omaha power plays in the series. Vernon upped his season save percentage to .930 and lowered his GAA to 2.15 on the year, while improving to 1-4-1 in nine appearances in net.
ECHL Player of the Month: Chad Costello, Allen Americans (Wichita Falls Wildcats) - Costello scored nine goals and added 11 assists for 20 points in 15 games during the month. The 35-year-old recorded at least one point in 11 of his 15 games in January, including a six-point game (2g-4a) on Jan. 16 at Tulsa and a hat trick on Jan. 7 against the Oilers. A native of Johnston, Iowa, Costello is second in the ECHL with 44 points and tied for third with 18 goals and 26 assists in 37 games with the Americans this season. Costello has recorded 533 points (164g-369a) in 346 career ECHL games with Allen, Colorado, Ontario and Texas. He ranks ninth in ECHL history in assists and is 22nd in points. He led the ECHL in scoring for three consecutive seasons from 2014-15 through 2016-17, and is the only player in league history to win multiple Most Valuable Player awards (2011-12, 2015-16 and 2016-17).