Generals complete sweep of Danbury on Monday
February 1, 2022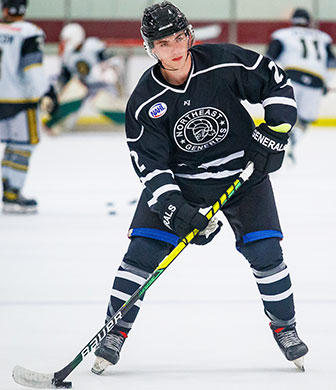 Danbury 3 @ Northeast 6 – Generals defenseman Jackson McCarthy had a five-point game, which included two goals and three assists, as the Generals completed a series sweep of the visiting Jr. Hat Tricks thanks to a 6-3 win on Monday.
The Generals jumped out to a 3-0 lead thanks to a 1st period goal from McCarthy in the 1st period and two early in the 2nd period from David Tolan and McCarthy again. The Jr. Hat Tricks would find the back of the net later in the 1st period thanks to a goal from Boris Skalos to make it 3-1, but a goal later in the period from Northeast's Joe Schubert made the score 4-1 after two periods.
Early in the 3rd period, Danbury made it 4-2 on a goal from Peter Lychnikoff. The Generals would secure the win later in the period on goals from Ryan Gordon and Paul Minnehan, which made it a 6-2 score. Andrew Eberling had a late goal for Danbury.
Oliver Drum made 27 saves in the win, while Josh Seeley (29 saves) and Adam Johnson (6 saves) both played in the loss.