NAHL Top Prospects Tournament Tournament begins in one week
January 31, 2022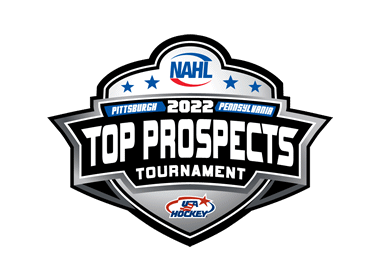 The 2022 North American Hockey League (NAHL) Top Prospects Tournament begins just one week from today. The 2022 NAHL Top Prospects Tournament will be held from February 7-8, 2022 at the UPMC Lemieux Sports Complex in Cranberry Township, Pennsylvania.
Late last week, the NAHL announced an exciting change to the 2022 NAHL Top Prospects Tournament. The NAHL has added a fifth NAHL Selects team to the event in addition to the United States National Development Team Program (NTDP) 17-Team.
"We have a great relationship with the NTDP, and we are the League of Opportunity. When we learned the NTDP was available to attend our Top Prospects Tournament, we took immediate action to make sure they could be included in the competition. This also gave us the opportunity to add the NAHL Selects Team, which includes more uncommitted players for the NCAA scouts to watch and add more younger players for the NHL teams to evaluate. It's a great opportunity for all the players involved and we could not be happier with the outcome," said NAHL Commissioner and President Mark Frankenfeld.
The NAHL divisional teams have been altered slightly as the 2-3 younger players that were originally on each divisional team have now been added to the NAHL Selects Team. Each team is now comprised of 20 players (12 forwards, 6 defensemen, 2 goalies).
There is also a slight change in the schedule since two more games have been added to each day.
Scout passes for the event are on sale now. For more information on the 2022 NAHL Top Prospects Tournament, please visit: http://nahl.com/tpt/
UPDATED 2022 NAHL Top Prospects Tournament Schedule (all times eastern)
Monday, February 7th
1:30pm: NTDP vs. Selects
4:00pm: Central vs. Midwest
6:30pm: East vs. South
Tuesday, February 8th
9:00am: Selects vs. Midwest
11:30am: South vs. Central
2:00pm: East vs. NTDP
The NAHL Top Prospects Tournament is one of the most highly-scouted events in junior hockey. Hundreds of scouts attend the event annually, which features almost every NHL team and NCAA Division I school. It continues to be an important part of the NAHL event model, which includes the NAHL Showcase in September and the NAHL Robertson Cup National Championship in May.
One of the things the NAHL does better than any other junior league is seeing their players earn an NCAA opportunity while playing and being showcased in the NAHL. To date, 167 players have already made NCAA commitments during the 2021-22 season. The NAHL Top Prospects Tournament plays a big role in that success, providing the hundreds of NHL and NCAA scouts in attendance with a look at the best uncommitted players the NAHL has to offer, as well as, some potential NHL Draft picks.