Titans come from behind to beat Black Bears on Tuesday
January 26, 2022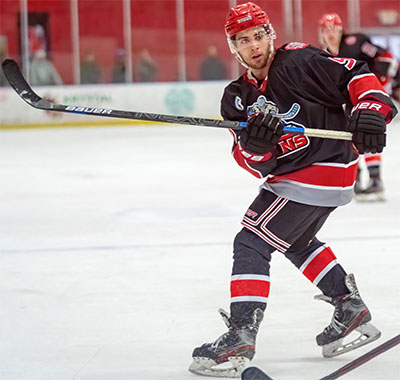 Maryland 5 @ New Jersey 6 - Anthony Calafiore scored three goals and the Titans overcame a 5-2 deficit to defeat the visiting Maryland Black Bears 6-5 last night in a playoff type atmosphere at the Middletown Sports Complex. The win extends the first place Titans lead to six points over the second place Black Bears.
Maryland opened the scoring at 5:04 into the first period as the Black Bears' Jack Blanchett took a wrist shot that beat Titans' goalie Andrew Takacs long side for his seventh goal of the season to make it a 1-0 game. Brendan Dumas tied the contest for New Jersey at 8:24 of the opening period to make it 1-1. Later in the 1st period, Jacob Brockman gave Maryland a 2-1 lead with a power play goal thanks to a sharp angle one-timer. The Black Bears doubled their lead at 3-1 with a minute remaining in the first period as Miles Gunty picked up the loose puck and backhanded it into the open net.
:21 seconds into the 2nd period, Calafiore scored his first goal of the game on a nice redirection. Maryland regained their two-goal lead at 3:41 into the second as Branden Piku redirected the biscuit past Takacs for his eighteenth goal of the season. Just :11 later Maryland took a 5-2 lead as Tyler Young picked up a loose puck and skated down the ice all alone on a breakaway and beat Takacs for his fifth goal of the season.
Despite being down three goals, the Titans didn't give up and then proceeded to score four unanswered goals starting with 9:24 remaining in the middle stanza as Blake Farrell redirected a puck past Michael Morelli to make it a 5-3 game.
Midway through the 3rd period, Calafiore brought the Titans within one at 5-4 as he buried a backdoor pass into the net for his second goal of the game. Just over a minute later, Chris Carroll tied the game as he parked himself in front of the net and directed a puck that went up and over the left shoulder of Morelli and into the net to tie the game with 9:04 left in the game. Calafiore scored his third goal of the night with 1:25 left in the contest, which stood as the game-winner as he took a one-timer that beat Morelli long side to complete the improbable comeback and close out the scoring and make it a 6-5 game.
Takacs stopped 24 of 29 shots in the win while Morelli turned aside 36 of 42 in the loss.