Brown Bears take rubber match over Jets on Sunday
January 23, 2022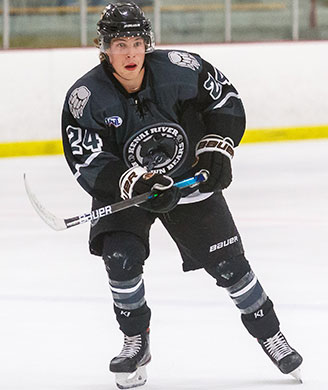 Janesville 2 @ Kenai River 4 – Brown Bears goalie Tommy Aitken made a season-high 45 saves and Cole Dubicki assisted on all four goals as Kenai River picked up a 4-2 win in the rubber match of their three-game set against the Jets on Sunday.
The Brown Bears got off to a hot start thanks to two power play goals in the 1st period from Nick Stevens and Hunter Newhouse.
The Jets cut into the lead to make it 2-1 early in the 2nd period as Jonah Aegerter scored his 11th goal of the season. Later in the period, the Brown Bears extended their lead back to two goals as Kevin Marx Noren scored on the power play to make it 3-1.
In the 3rd period, the Brown Bears lead increased to 4-1 as Carter Cloutier scored his 3rd goal of the season. A late power play goal from the Jets' Robby Newton would complete the scoring and give Kenai River the 4-2 win.
Jets goalie Owen Millward made 22 saves in the loss.