10 NAHL alumni on Mike Richter Award watch list
January 20, 2022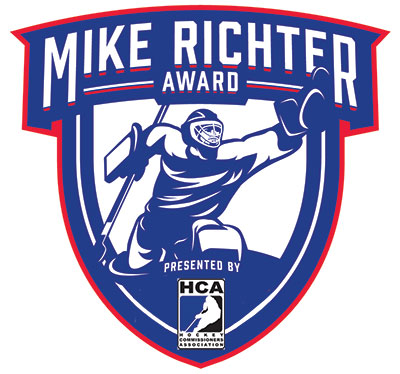 The Hockey Commissioners Association (HCA) has announced a "Watch List" of 28 goalies who will compete for the Mike Richter Award, given annually to the top goalie in men's NCAA Division I hockey since 2014.
Of the 28 goalies nominated, 10 are alumni that previously played in the NAHL before moving onto play in NCAA Division I hockey.
A committee of voters — made up of a cross section of coaches, administrators, scouts and media — will pare this list down to approximately 15 names within the next two weeks and then ultimately choose the winner who will be announced in April during the NCAA Frozen Four. A similar award to recognize the top female goalie in the NCAA is also presented by the HCA.
Two former NAHL alumni, Collor Hellebuyck (2014) and Jack LaFontaine (2021), are past recipients of the award and who are both currently playing in the NHL.
Past Richter Award Recipients: 2014 - Connor Hellebuyck, UMass Lowell; 2015 - Zane McIntyre, North Dakota; 2016 - Thatcher Demko, Boston College; 2017 - Tanner Jaillet, Denver; 2018 - Cale Morris, Notre Dame; 2019 - Cayden Primeau, Northeastern; 2020 - Jeremy Swayman, Maine; 2021 - Jack LaFontaine, Minnesota.
NAHL Alumni on 2021-22 Richter Award "Watch List"
Jacob Barczewski, Canisius (Janesville Jets, 2016-17)
Jakub Dobeš, Ohio State (Topeka Pilots, 2019-20)
Dryden McKay, Minnesota State (Corpus Christi IceRays/Springfield Jr Blues, 2014-16)
Ethan Haider, Clarkson (Minnesota Magicians, 2018-19)
Connor Murphy, Union (Topeka RoadRunners, 2017-18)
Ian Shane, Cornell (Bismarck Bobcats, 2020-21)
Darion Hanson, UConn (Aston Rebels/Lone Star Brahmas, 2016-17)
Brandon Bussi, Western Michigan (Amarillo Bulls, New Jersey Titans, 2016-18)
Ryan Fanti, Minnesota Duluth (Minnesota Wilderness, 2017-19)
Isaiah Saville, Omaha (Minnesota Magicians, 2017-18)