January 20, 2022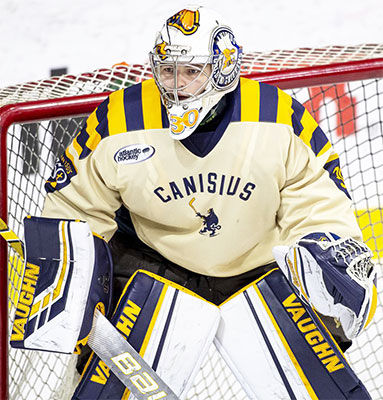 Atlantic Hockey Defensive Player of the Week: Logan Britt, D, Sacred Heart (Aberdeen Wings) - Sacred Heart junior Logan Britt led all Pioneer defensemen in points with four over the two games played at Bentley this week. The Crystal Lake, Ill., native tallied one power play goal alongside three assists in the two contests with the Falcons, including two helpers in the Pioneers' 4-3 loss on Saturday. He is currently tied for second on the team in points with 13 and leads the team in assists with 11 which ranks tied for sixth in Atlantic Hockey. This is his third AHA weekly honor – and his second Defensive Player of the Week nod – this season.
Atlantic Hockey Goalie of the Week: Jacob Barczewski, Canisius (Janesville Jets) - Canisius junior Jacob Barczewski stopped 69-of-71 shots and posted a 0.96 goals-against average to help lead Canisius to five of six points in a win and a tie at Holy Cross over the weekend. The O'Fallon, Mo., native turned aside 26-of-27 shots in a 1-1 tie with the Crusaders in the series opener with the lone goal coming on a third period power play. He helped the Griffs pick up the extra point in the shootout by stopping all three attempts. He finished the weekend with a career-high 43 saves in a 2-1 victory on Saturday, including a 32-of-33 run during the final two periods to help preserve the Griffs' one-goal lead. The 43 saves ties for the second-most by an Atlantic Hockey netminder in a game this season. This is Barczewski's fourth AHA Goaltender of the Week honor this season and his second in as many weeks.
Atlantic Hockey Rookie of the Week: Mitchell Digby, Fr., D, Air Force (Lone Star Brahmas) - Air Force defenseman Mitchell Digby matched his career high of two points in each game of the Falcons' weekend sweep of Niagara. The Ottawa Lake, Mich., native posted a career high two goals in Friday's 5-4 win over the Purple Eagles. The blueliner scored Air Force's first goal just 1:51 into the contest as the Falcons never trailed en route to a 5-4 win. His second goal of the game gave the Falcons a 4-1 lead and was his first career power play tally. On Saturday, he matched his career high of two points with a pair of assists in a 3-2 win that completed the sweep. Digby netted his second career power play goal to give the Falcons a 2-1 second period lead then assisted on the game-winning power play tally a few minutes later. This is his first career Atlantic Hockey weekly honor.
CCHA Forward of the Week: Ethan Stewart, Ferris State (Springfield/Kenai River/Aberdeen) - Ferris State senior forward Ethan Stewart recorded three points (1G, 2A) in two games this weekend, leading all Bulldog forwards in point-scoring. His power play goal Saturday, on a highlight reel passing play put Ferris State on the board where they'd go on to erase a 3-0 deficit before falling 4-3 to UST. Stewart had an assist in each game, was a team-best plus-3 on the weekend, blocked two shots and scored on 33.3 percent of his shots on goal.
CCHA Rookie of the Week: Tim Piechowski, St. Thomas (Bismarck Bobcats) - St. Thomas' Freshman forward Tim Piechowski recorded three points (2G, 1A) in two games to lead all CCHA rookies on the weekend. Piechowski scored two breakaway goals, one shorthanded, to help St. Thomas build a 3-0 lead in Saturday night's 4-3 defeat of Ferris State. The victory snapped the Purple's 15-game losing streak and was the first NCAA Division I road win for the Tommies. It also earned head coach Rico Blasi his 400th-career win behind-the-bench in 21 seasons of college hockey.
ECAC Goalie of the Week: Nathan Reid, Yale (Fairbanks Ice Dogs) - In just his fifth collegiate weekend, Reid (So. - Madison, Wisc.) put together his best stretch as a Bulldog, allowing just three goals in 105 minutes of play. After stopping 21 of 22 in relief against Cornell on Saturday, Reid got the start on Sunday and rose to the challenge, sending aside 33 of 35 shots against Colgate. He stopped a pair of breakaways in overtime, and both Raider shootout attempts to help Yale claim the extra league point.
Hockey East Rookie of the Week: Colton Huard, D, New Hampshire (Aberdeen Wings) - Colton Huard (Fr., D; Foothill Ranch, Calif.) posted two goals and one assist for three points as UNH swept #20 Boston College. He was also a member of a defense that only allowed four goals on the week. With the game tied at 1-1 on Friday, Huard scored to give the Wildcats a 2-1 lead in the third period as UNH would go on to win 3-2. Then on Saturday, he gave UNH a 2-0 lead in the first period and posted an assist on the Wildcats' fourth goal as UNH won 5-2. Huard now has a four-game point streak with three goals and five assists for eight points during that span.
ECHL Goalie of the Week: Max Milosek, Toledo Walleye (Port Huron/Motor City) - Max Milosek of the Toledo Walleye is the ECHL Goaltender of the Week for Jan. 10-16. Milosek went 2-1-0 with a 2.01 goals-against average and a save percentage of .945 in three appearances last week. The 28-year-old stopped 40 shots in a 4-2 loss at Kalamazoo on Friday, made 40 saves in a 3-2 win against Fort Wayne on Saturday and turned aside 24 shots in a 4-1 victory at Cincinnati on Sunday. A native of Lapeer, Michigan, Milosek has appeared in five games with the Walleye going 3-2-0 with a 2.39 goals-against average and a save percentage of .927. He has also seen action in 15 games with Huntsville of the Southern Professional Hockey League where he is 13-1-0 with a 2.01 goals-against average and a save percentage of .929.