Five NAHL alumni named to US Olympic team
January 14, 2022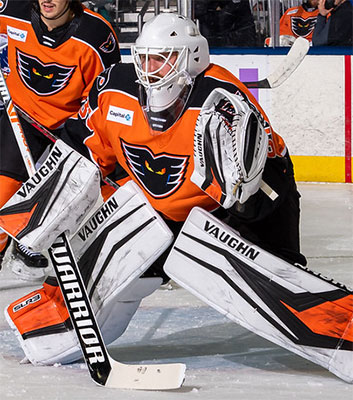 USA Hockey announced the final roster for its 2022 U.S. Olympic Men's Ice Hockey Team tonight, a group that includes 15 current NCAA players, eight European pros and two players from the AHL. The squad will represent the United States at the 2022 Olympic Winter Games Feb. 3-20 in Beijing, China.
The roster includes five players who previously played in the North American Hockey League (NAHL). They are:
David Warsofsky, Defenseman (NTDP, 2007-08)
Nathan Smith, Forward (Aberdeen Wings, 2016-17)
Nick Abruzzese, Forward (New Jersey Titans, 2016-17)
Pat Nagle, Goaltender (St. Louis Bandits, 2006-07)
Nick Shore, Forward (NTDP, 2008-09)
"We're excited about the roster we've put together," said John Vanbiesbrouck, general manager of the 2022 U.S. Olympic Men's Ice Hockey Team and also the assistant executive director of hockey operations for USA Hockey. "The Olympics are the biggest stage in sports and it was fun to hear the enthusiasm our players have to represent their country. We're fortunate to have a deep talent pool -- thanks in part to all the great work of our volunteers in communities across the nation -- and with the mix of players who are part of our team, we're looking forward to competing for a gold medal in Beijing."
Nathan Smith (Hudson, Fla./Minnesota State University) is the leading point-getter in the NCAA and is one of nine collegiate players on the roster averaging a point or better per game, including Nick Abruzzese (Slate Hill, N.Y./Harvard University).
A total of seven players will bring NHL experience to the Team USA lineup, led by Nick Shore (Denver, Colo./Sibir/University of Denver), who has played 299 regular-season NHL games (18-41—59), and David Warsofsky (Marshfield, Mass./ERC Ingolstadt/Boston University/55GP, 2-9—11).
Goalie Pat Nagle (Bloomfield Township, Mich./Ferris State University) is currently playing for the AHL's Lehigh Valley Phantoms (2.74, .897)
The 2022 Olympic Winter Games will take place Feb. 3-20 in Beijing, China. The U.S. Olympic Men's Ice Hockey Team opens play on Feb. 10 when it faces host China in its first preliminary round game at 8:10 a.m. ET.
For more information on the 2022 U.S. Olympic Men's Ice Hockey Team, including the full roster, click here.