Northeast tops Danbury on Sunday, 4-1
January 9, 2022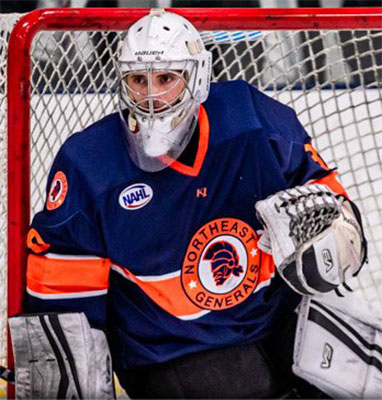 Danbury 1 @ Northeast 4 – Generals goalie Cullen DeYoung made 39 saves and Brent Keefer scored twice to lead Northeast to a 4-1 win in the rubber match of their three-game series against the Jr. Hat Tricks.
The Generals scored first as defenseman Bryce Cooper netted his first goal of the season. The lead was short-lived however as just :26 seconds later, Danbury tied the game at 1-1 with their lone goal of the game from Luka Sukovic.
In the 2nd period, the Generals took the lead for good as Keefer scored his 14th goal of the season.
In the 3rd period, Keefer would strike again less than a minute into the final frame and then Ryan Corcoran would add an insurance goal on the power play.
Danbury goalie Josh Seeley made 27 saves in the loss.
The win moved the Generals into a tie for the 4th and final playoff spot with the Jamestown Rebels.