January 6, 2022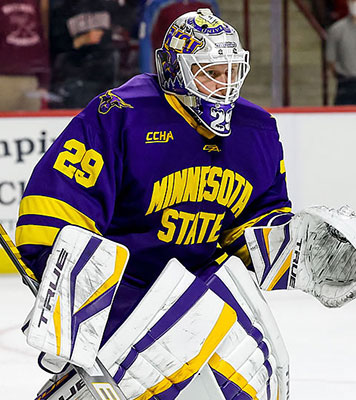 National Goaltender of the Month/CCHA Goalie of the Month: Dryden McKay, Minnesota State (Corpus Christi/Springfield) - Minnesota State senior goaltender Dryden McKay has been named the Hockey Commissioners' Association's Men's National Goaltender of the Month for the month of December. McKay led all CCHA goaltenders posting an undefeated 5-0-0 record in the month of December, including a 0.99 goals against average (GAA) and a .946 save percentage (SAV%.). He helped No. 1-ranked Minnesota State to consecutive weekend sweeps over Michigan Tech and Bemidji State and a victory in the single game vs. No. 6 Minnesota Duluth. McKay allowed only a single goal in each of the five contests.
Atlantic Hockey Defensive Player of the Month: Sam Brennan, D, Air Force (Lone Star Brahmas) - Air Force's Sam Brennan notched four assists in December with four points against Canisius, Dec. 3-4, as Air Force took five of six points heading into the holiday break. The Brighton, Mich., native had a career-high four assists, and a career-high four points in game one against Canisius. He became the first Falcon to score four or more points in a game since Evan Feno had five in a win over St. Lawrence at the Ice Vegas Tournament, Jan. 5, 2019. His four assists stand as the most by an AHA player in one game this season and tie as the second most in the nation by a defenseman. Brennan also blocked two shots, had six shots on goal and was a +2 in the series. This is his first Atlantic Hockey monthly honor this season.
CCHA Forward of the Month: Nathan Smith, Minnesota State (Aberdeen Wings) - Minnesota State junior forward Nathan Smith averaged more than a point-per-game, tallying five points (2G, 3A) in four games, including a plus-3 rating and 11 shots on goal. Smith was also 33 for 65 on face-off (.508) draws.
NCHC Goalie of the Month/Goalie of the Week: Brandon Bussi, Western Michigan (Amarillo/New Jersey) - Bussi was rock solid in goal for the Broncos in December, posting a 4-1-0 record with a .928 save percentage and a 2.02 goals-against average as WMU ascended to a No. 3 national ranking, its highest in program history. His .928 save percentage led all NCHC netminders in the month, as he stopped 127 of the 137 shots he faced. Of his 10 goals allowed, only seven were even strength and three were power-play goals. Bussi also collected a pair of assists in December to help the WMU offense. Bussi opened December backstopping WMU to a sweep at rival Miami Dec. 3-4, making 28 saves in the opener and 18 saves a night later. He also handed out his first assist in the opener at Miami. A weekend later, he compiled 28 saves in a win over No. 14 Omaha and made 25 more stops in a tough-luck, 1-0 loss in the series finale. Bussi was at his best to close out 2021, turning aside 28 of 29 shots in a 3-1 win at Michigan State in the Great Lakes Invitational on Dec. 29. In that game, he stopped a penalty shot and doled out his other assist of the month, helping him earn NCHC Co-Goaltender of the Week honors. On the season, Bussi is 14-5-0 with a .916 save percentage and a 2.39 GAA, both of which rank fourth in the NCHC.
Atlantic Hockey Defensive Player of the Week: Zak Galambos, D, AIC (Johnstown/Janesville) - AIC's Zak Galambos had a monster weekend for the Yellow Jackets at both ends of the rink. The Walnut Creek, Calif. native notched a pair of power play assists in Saturday's victory over Air Force, and set up the deciding tally against the Falcons on Sunday with a breakout pass, before rushing end-to-end and finding Austen Long open in the slot for the winner. This is the junior's first Atlantic Hockey weekly honor of the season.
Atlantic Hockey Goalie of the Week: Chad Veltri, Niagara (Corpus Christi IceRays) - Niagara's Chad Veltri backstopped the Purple Eagles to a 3-1 win at No. 10/10 Notre Dame to open the second half of NU's 2021-22 slate. The Pittsburgh, Pa., native allowed just one goal and turned away 27 shots on Saturday night against the Fighting Irish and stopped 40-of-44 shots (.909 save percentage) in 85 minutes between the pipes in the series. This is his first AHA weekly honor this season.
ECAC Goalie of the Week: Ian Shane, Cornell (Bismarck Bobcats) - Shane (Fr. - Manhattan Beach, Calif.) got his first collegiate action late Sunday evening and made the most of it, stopping all 23 shots that came his way. Since the turn of the century, only one Cornell goaltender has stopped more consecutive shots to begin his career when Matthew Galajda did so in 2017. He'll have a chance to top the mark of 27 straight saves to begin a career in his next action in net.
NCHC Goalie of the Week: Isaiah Saville, Omaha (Minnesota Magicians) - Saville backstopped Omaha to a split at St. Lawrence over the weekend, allowing only three goals in the series and only one even strength. On Friday, the Vegas Golden Knights draft pick made 26 saves in a 3-2 defeat, with two of SLU's goals coming on the power play and all three coming in the final frame. The next night, Saville bounced back with a 21-save shutout in a 5-0 victory, his fourth shutout of the season and sixth of his career. He allowed goals in only one of six periods in the series. Saville finished the road trip with a 1-1-0 record, a .940 save percentage and a 1.52 goals-against average, stopping 47 of 50 shots he faced. This is Saville's fifth NCHC Goaltender of the Week honor this season and second straight. He is now a six-time Goalie of the Week for his career and has eight career NCHC weekly accolades.
SPHL Player of the Month: Alec Hagaman, Peoria Rivermen (Topeka RoadRunners) - Alec Hagaman of the Peoria Rivermen has been named the SPHL Player of the Month for December. Hagaman recorded 15 points (three goals, 12 assists), including two power play goals and one game-winner, and was +11 in just eight games as the Rivermen went undefeated in regulation in December, posting a 6-0-2 record for the month. After being held scoreless in his first game of the month, Hagaman recorded a point in each of the next seven and finished December with five multi-point outings, including three three-point games. Hagaman has since extended his point streak to nine games and currently ranks fourth in the SPHL in points (28) and plus-minus (+18) and fifth in assists (17). This past Sunday, Hagaman became just the second American-born player, and eighth overall, to record 300 career SPHL regular season points.