Minot forward Beahm makes NCAA DI commitment
January 3, 2022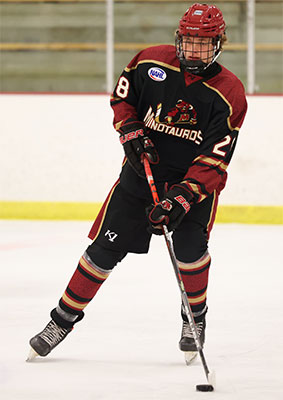 The Minot Minotauros of the North American Hockey League (NAHL) are proud to announce that forward Braydon Beahm has committed to play NCAA Division I hockey for Clarkson University in the ECAC.
The youngest player on the Minotauros roster becomes the 74th NCAA DI commit in the history of the program and the first to commit to Clarkson.
After being held off of the scoresheet in his first six games Beahm, 17, adjusted to the speed and physicality of the junior game and has six goals and six assists for 12 points in 16 games since his slow start.
According to Beahm, making that adjustment and being a Minotauro are a huge part of why he was able to commit. "The coaches have been amazing from day one, really helping me strengthen weaknesses in my game and building on my strengths, giving me opportunities every weekend to prove myself. Mr. Porter has provided us with such amazing facilities and amenities," said Beahm. "I'd like to thank my teammates in the locker room every day, Coach Campbell, Banks and Howie, my advisor, my billet family, my old coaches and teammates and my family back home. Thank you also to all the Tauros fans. They make playing at the Maysa such an incredible experience."
"Clarkson has had a ton of success under coach Jones. He and the other coaches have been amazing, they've just made me feel so comfortable. I really like the way they work and develop players and how they will build around what I offer as a player, not trying to change who I am," continued Beahm.
Tauros Head Coach and General Manager Cody Campbell was obviously excited for his youngest player. "We are thrilled for Braydon and his family on his commitment to Clarkson. His progress, both on and off the ice over the course of the season has been extremely fun to watch. He has trusted the plan we had in place for him early in the year and put the work in to become a player that is relied on to help our group be successful. We look forward to continuing to help Braydon develop prior to his arrival at Clarkson."
The 6'4/191 lbs. native of Waupin, WI, said he plans to study business and is keeping his options open, but now his focus will remain on the present and being a Tauro and developing his game.
Click here for an updated NAHL to NCAA commitment list