December 31, 2021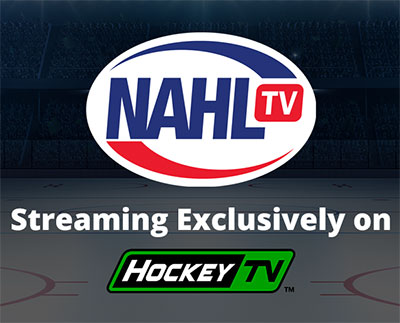 The calendar turns to 2022 this weekend as the stretch run to the second half of the season and Robertson Cup Playoffs officially begin.
It is a busy weekend for NAHL teams as 22 games are on the schedule from Friday-Sunday.
The NAHL has had a great run of NCAA commitments in recent weeks, bringing the current season total to 143 NCAA Division I commitments.
With the schedule over halfway done and the USA Hockey trade deadline looming in just five weeks, the time is now for teams to make a move in the standings.
In the Central Division, there is a new lone leader as the Minot Minotauros took over sole possession of 1st place with a 6-1 win on Thursday over Bismarck. The two teams finish the series tonight in Bismarck. In other action, the St. Cloud Norsemen look to stay hot as they visit the Aberdeen Wings just one point back of the Wings for the 4th and final playoff spot. The North Iowa Bulls will look to snap a three-game slide with a home-and-home series against the Austin Bruins.
In the East, with 1st place New Jersey idle, other teams will look to gain ground as the Johnstown Tomahawks will host the Northeast Generals for three games with the teams separated by just one point in the standings. In other action, Danbury looks to snap a five-game slide in Maine against the Nordiques, who have won just three of their last 10.
In the Midwest, the Janesville Jets look to continue their momentum from a 4-0 shutout on Thursday as they face the Anchorage Wolverines two more times this weekend. In other action, the 1st place Fairbanks Ice Dogs put their 8-game winning streak on the line with a pair of games in Cloquet against the Wilderness. The final series has Kenai River in Minnesota to face the Magicians.
In the South, it's a full slate of action as all eight teams are on the ice, including the red-hot Lone Star Brahmas, who look to keep their winning streak going with one more game in a series in Corpus Christi after shutting out the IceRays on Thursday, 3-0. The 1st place New Mexico Ice Wolves are in Shreveport for two games against the Mudbugs, who have won six straight. In Wichita Falls, the Warriors look to snap a seven-game slide against the Amarillo Wranglers, and in Odessa, the Jackalopes host El Paso as the Rhinos look to shake off a five-game slide.
Watch all the action on HockeyTV
Download the all new NAHL App today! (iOS - Google Play)
FRI, DECEMBER 31
Northeast at Johnstown - 6:00 PM EST
Fairbanks at MN Wilderness - 5:15 PM CST
Danbury at Maine - 7:00 PM EST
North Iowa at Austin - 7:00 PM CST
Anchorage at Janesville - 7:00 PM CST
Lone Star at Corpus Christi - 7:05 PM CST
Amarillo at Wichita Falls - 7:05 PM CST
New Mexico at Shreveport - 7:11 PM CST
St. Cloud at Aberdeen - 7:15 PM CST
Minot at Bismarck - 7:15 PM CST
El Paso at Odessa - 7:15 PM CST
SAT, JANUARY 1
Kenai River at MN Magicians - 3:00 PM CST
Northeast at Johnstown - 7:00 PM EST
Danbury at Maine - 7:00 PM EST
Anchorage at Janesville - 7:00 PM CST
Amarillo at Wichita Falls - 7:05 PM CST
New Mexico at Shreveport - 7:11 PM CST
St. Cloud at Aberdeen - 7:15 PM CST
Fairbanks at MN Wilderness - 7:15 PM CST
Austin at North Iowa - 7:30 PM CST
SUN, JANUARY 2
Johnstown at Jamestown - 2:00 PM EST
Kenai River at MN Magicians - 6:00 PM CST