Anchorage defenseman Cichosz makes NCAA DI commitment
December 24, 2021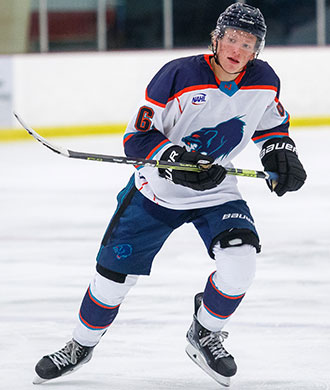 The Anchorage Wolverines of the North American Hockey League (NAHL) are pleased to announce that defenseman Campbell Cichosz has committed to play NCAA Division I hockey for Minnesota State University.
Cichosz, 20, is in his final year of eligibility to play in the NAHL, as he spent the majority of his junior hockey career in the NA3HL with the North Iowa Bulls.
MSU Mankato is currently ranked #1 among all Division 1 hockey teams, and holds an NCAA best overall record of 16-4-0. The Mavericks are members of the Central Collegiate Hockey Association (CCHA).
The 6'1/185 lbs. native of Owatonna, MN, has been an extraordinary member of the inaugural Wolverines team, and his journey is one of perseverance. Cichosz touched down in Anchorage as an untendered, undrafted free agent, fighting for a roster spot at a training camp dense with defensive talent.
So far during the 2021-22 season, Cichosz has 15 points in 24 games played. He was named the Midwest Division Star of the Week for December 6-12.
Cichosz's path to the Wolverines started at the Grand Forks Pre-Draft Camp. "I didn't have the best camp, I'll be honest and I didn't make the All-Star Game. The All-Star list came out and my name wasn't on it. I was pretty bummed but he [head coach Mike Aikens] said there was a Young Guns game and I'm a 20 year old skating with a bunch of 16 year olds…it was a little embarrassing but I stuck to it."
After the camp, Campbell was fairly certain he would not be spending this season in Alaska, but after being cut from the North Iowa Bulls he wasn't giving up. "We reported for camp on the 14th, on the 12th I called Mike Aikens and told him I was cut from North Iowa, and could I just have an opportunity?"
"Campbell's story needs to be shared. It is nothing short of inspiring, and really shows how quickly you can rebound if you are determined to succeed," said Director of Hockey Operations Keith Morris.
Head coach Mike Aikens added, "Our organization is excited for Campbell to have the opportunity to play at one of the top programs in college hockey. He has been a great player for us, and we are excited for his future."
Prior to playing in the NAHL, Cichosz spent two seasons playing in the NA3HL for the North Iowa Bulls. In 52 career NA3HL games with the Bulls, Cichosz had 24 points.
Click here for an updated NAHL to NCAA commitment list