Dallas Stars goalie, NAHL grad Bishop announces retirement
December 15, 2021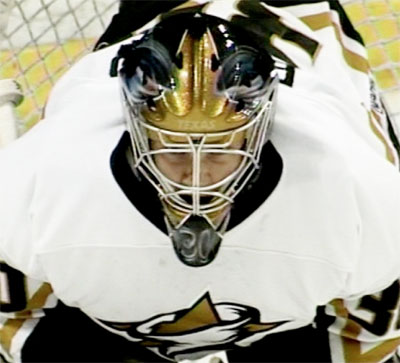 Dallas Stars goalie and NAHL alum Ben Bishop announced his retirement on Tuesday, December 14th at the American Airlines Center in Dallas, TX.
Bishop's career came to a close in nearly the name place that it began back in 2004 when he was a rookie in the North American Hockey League.
Bishop played as an 18-year-old in the NAHL during the 2004-05 season for the Texas Tornado in Frisco, TX. During that season, he led the Tornado to their second of three straight Robertson Cup Championships. He also led the NAHL in wins that season with 35, ranked 2nd in goals against average (1.93) and was 3rd in save percentage (.920).
He was also named to the 2004-05 NAHL All-Rookie Team that season. During the season, Bishop committed to play NCAA Division I hockey for the University of Maine and later in the Summer of 2005 was drafted by the St. Louis Blues.
"The year I played in the NAHL was probably one of the favorite years of my life," Bishop said. "I did my senior year of high school there, we won the championship, it was a great group of guys – lived on a golf course, had a pool – it was great."
However, Bishop said a conditioning stint in the American Hockey League last week made clear that his playing career was over because of a knee injury.
"If I was a forward, I could be playing right now," the Dallas Stars goalie said Tuesday. "But just with the butterfly, the torque you put on your knee, it just couldn't really get better."
Bishop last played in Game 5 of the 2020 Western Conference Second Round against the Colorado Avalanche on Aug. 31. He missed all of last season after having surgery to repair a torn meniscus in his right knee Oct. 21, 2020. He was placed on long-term injured reserve recovering from the surgery and the 35-year-old was hoping for one more chance to prolong his career when the Stars loaned him to Texas of the AHL on a conditioning assignment Dec. 7.
"Last week when we drained it, there was still some flecks in the fluid, which means there was some cartilage wearing away," Bishop said. "With all that, I still wanted to go down and give it a try because I wanted one last try to make sure."
He started the game Dec. 9 and allowed eight goals on 34 shots in an 8-4 loss to Chicago.
"I was hoping I could go down and everything would be OK," Bishop said. "But obviously after the game, it blew up. In talking to the doctors, it doesn't make sense to just kind of be ripping your knee apart if you're not going to get back to playing."
Dallas general manager Jim Nill said Saturday that Bishop would be placed on LTIR through the remainder of his contract. Bishop has two seasons remaining on the six-year, $29.5 million contract ($4.92 million average annual value) he signed May 12, 2017.
"It's a huge loss for us and a tough day for Ben, a tough few days," Nill said. "Really it's been tough for him for more than a year, trying to rehab this. He's felt good, he's felt bad, but always hoping it would come back. But in the end, this is the way it goes."
Bishop said the knee injury dates to the second round of the 2019 Stanley Cup Playoffs.
"I think through this process I've done PRPs (platelet-rich plasma), stem cells, cortisone … probably 30 injections," he said. "We've tried it all. Unfortunately, it just couldn't get where I needed it to. Ultimately I couldn't kind of get that full range back, and that power, and it still swells on me."
Selected by the St. Louis Blues in the third round (No. 85) of the 2005 NHL Draft, Bishop was 222-128-36 with a 2.32 goals-against average, .921 save percentage and 33 shutouts in 413 games (397 starts) in 11 seasons with the Blues, Ottawa Senators, Tampa Bay Lightning, Los Angeles Kings and Stars.
A three-time Vezina Trophy finalist as the best goalie in the NHL (2013-14, 2015-16, 2018-19), Bishop helped the Lightning reach the Stanley Cup Final in 2015, when they lost to the Chicago Blackhawks in six games. He is second in wins (131) and shutouts (17) in Lightning history, behind Andrei Vasilevskiy in each (204 wins, 28 shutouts).