December 8, 2021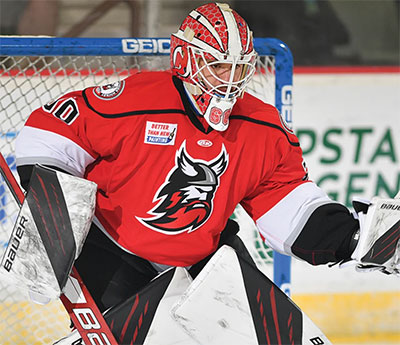 Atlantic Hockey Defensive Player of the Week: Sam Brennan, D, Air Force (Lone Star Brahmas) - Air Force sophomore Sam Brennan registered a career-high – and Atlantic Hockey season high –four assists, and a career-high four points against RV/UR Canisius on Friday. Brennan is the first Falcon to score four or more points in a game since 2019. The Brighton, Mich., native entered the game with five career points in 27 games. His four assists tie for the second-most in the nation this season by a defenseman. Brennan also blocked one shot in each game to give him 14 on the season. This is his first Atlantic Hockey weekly honor of the season.
Atlantic Hockey Rookie of the Week: John Gelatt, F, Holy Cross (Johnstown Tomahawks) - Freshman John Gelatt scored his first two collegiate goals on four shots on goal to lead Holy Cross past Niagara, 3-2 on Saturday and earn the weekend spilt with the Purple Eagles. Both of Gelatt's goals came on the power play and his second tally also marked his first career game-winning goal. This is the Middletown, N.J., native's first career Atlantic Hockey weekly honor.
CCHA Forward of the Week: Nathan Smith, Jr., Minnesota State (Aberdeen Wings) - Minnesota State's junior forward Nathan Smith earns the award for the second time this season after registering four points over the course of a home weekend league sweep over Michigan Tech and Balke Pietila who has the CCHA's second best goals against average (2.08) and save percentage (.914). Smith scored an overtime game winning goal in last Friday's 2-1 victory over Michigan Tech. He then had a hand in all three goals with a goal and two assists in a 3-1 win over the Huskies Saturday. Smith won 16 of 30 face-offs (.533), now leads Minnesota State in scoring and stands tied for second nationally with 11 goals, 15 assists and 26 points in 18 games played.
ECHL Goalie of the Week: Mareks Mitens, Adirondack (Aston Rebels) - Mareks Mitens of the Adirondack Thunder is the ECHL Goaltender of the Week for Nov. 29-Dec. 5. Mitens went 3-0-0 with a 1.34 goals-against average and a save percentage of .961, helping the Thunder sweep a three games in three nights set on the road. The 23-year-old stopped 38 shots in a 3-2 win at Worcester on Friday, made 28 saves in a 4-1 victory at Maine on Saturday and turned aside 30 shots in a 4-1 win over the Mariners on Sunday.
Dallas Stars General Manager Jim Nill announced that the club has loaned goaltender Ben Bishop (Texas Tornado) to the Texas Stars, Dallas' top development affiliate in the American Hockey League (AHL), on a conditioning assignment.Bishop, 35, missed the entire 2020-21 season and has yet to play in 2021-22 due to a knee injury. The goaltender appeared in 44 games during the 2019-20 season, posting a 21-16-4 record with a .920 save percentage, a 2.50 goals against average and two shutouts. Among league leaders, his GAA ranked 10th in the NHL and his SV% tied for 10th. Additionally, he shared fourth in the NHL with two assists (0-2=2) and ranked 16th in the League with 2,473:49 minutes. In five seasons with Dallas, the netminder has earned a 74-48-11 record in 143 appearances with a .923 SV%, a 2.33 GAA and 14 shutouts. The three-time Vezina Trophy finalist (2014, 2016, 2019) has appeared in 413 career NHL contests with St. Louis, Ottawa, Tampa Bay, Los Angeles and Dallas, posting a .921 SV%, a 2.32 GAA and 33 shutouts. He has made four appearances in the Stanley Cup Playoffs and has earned a 29-21 record in 52 games, registering a .924 SV%, a 2.27 GAA and five shutouts.