Generals earn split with Black Bears thanks to OT win
December 5, 2021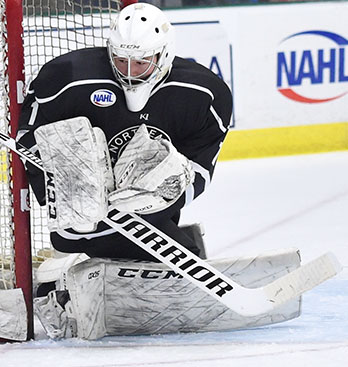 Maryland 1 @ Northeast 2 (OT) – Generals goalie Oliver Drum picked up his first career NAHL wins making 36 saves as the Generals split their weekend series against the Maryland Black Bears thanks to a 2-1 overtime win on Sunday.
The game was scoreless until late in the 3rd period as Drum and Maryland goalie Michael Morelli were engaged in a classic goalie duel.
In the 3rd period, the Generals took a 1-0 lead with just 4:47 remaining as Jared Scott netted his 11th goal of the season. However, just over a minute later, Branden Piku tied the game with his 12th goal of the season, which came on the power play.
In overtime, Brent Keefer netted the game-winner as he scored his third overtime goal of the year thanks to a nice pass and individual effort from Kyle Schroeder.
Morelli made 27 saves in the loss.