December 3, 2021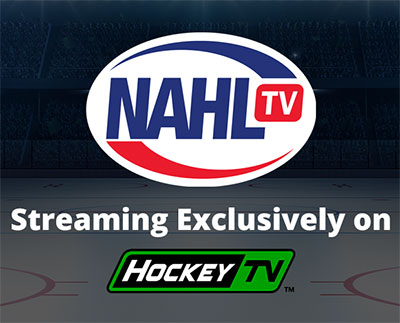 The first weekend of December offers up some intriguing divisional match-ups as 26 games are on the schedule from Friday-Sunday.
The league continued its commitments this past weekend, with three more players announcing their NCAA Division I commitments, bringing the current season total to 126 players.
One of the things the NAHL does better than any other junior league is seeing their players earn an NCAA opportunity while playing and being showcased in the NAHL. During the 2020-21 season, a record number of 395 NAHL players made NCAA commitments, with 293 of those (74%) being a record number of NCAA Division I commitments.
It was a big week for NAHL alumni as several earned monthly and weekly honors in their NCAA Division I conferences, while over 50+ alumni are currently playing in the NAHL.
In the Central Division, the 1st place Austin Bruins will look to continue their winning streak as they host the 4th place Aberdeen Wings. The St. Cloud Norsemen look to snap a four-game losing streak as they take on the 2nd place North Iowa Bulls in a home-and-home series. Finally, Minot is in Bismarck for a single game on Saturday.
In the East, things get started early on Friday with Johnstown at Danbury, as the Tomahawks took the first game of the series on Thursday, 3-2. The 1st place New Jersey Titans will host the Jamestown Rebels. The 2nd place Maryland Black Bears are in Massachusetts to take on the Northeast General on Saturday and Sunday. Maine is idle.
In the Midwest, the 1st place Fairbanks Ice Dogs return to their temporary home from last year, Marshall, Minnesota, for two games against the Minnesota Wilderness. The red-hot Janesville Jets put their three-game winning streak on the line as they visit the 2nd place Springfield Jr. Blues. The Minnesota Magicians and Chippewa Steel face one another in a home-and-home series. Finally, the battle of Alaska continues as the Anchorage Wolverines are in Kenai River to take on the Brown Bears.
In the South, the 1st place Amarillo Wranglers put their four-game winning streak on the line as they are in Shreveport with the Mudbugs looks to snap an eight-game slide. El Paso picked up a 4-2 win in Odessa on Thursday with the two clubs playing again on Friday and Saturday. The Lone Star Brahmas are 3-0-1 in their last four games as they take to the road to face the New Mexico Ice Wolves. Finally, Corpus Christi looks to add to their winning streak as they are in Wichita Falls.
Watch all the action on HockeyTV
Download the all new NAHL App today! (iOS - Google Play)
FRI, DECEMBER 3
Johnstown at Danbury - 3:00 PM EST
Jamestown at New Jersey - 7:30 PM EST
Aberdeen at Austin - 7:00 PM CST
MN Magicians at Chippewa - 7:00 PM CST
Corpus Christi at Wichita Falls - 7:05 PM CST
Janesville at Springfield - 7:05 PM CST
Amarillo at Shreveport - 7:11 PM CST
El Paso at Odessa - 7:15 PM CST
MN Wilderness at Fairbanks - 7:30 PM CST
St. Cloud at North Iowa - 7:30 PM CST
Lone Star at New Mexico - 7:30 PM MST
Anchorage at Kenai River - 7:30 PM AKST
SAT, DECEMBER 4
Janesville at Springfield - 6:05 PM CST
Jamestown at New Jersey - 7:30 PM EST
Aberdeen at Austin - 7:00 PM CST
Chippewa at MN Magicians - 7:00 PM CST
Maryland at Northeast - 8:00 PM EST
North Iowa at St. Cloud - 7:00 PM CST
Corpus Christi at Wichita Falls - 7:05 PM CST
Amarillo at Shreveport - 7:11 PM CST
Minot at Bismarck - 7:15 PM CST
El Paso at Odessa - 7:15 PM CST
MN Wilderness at Fairbanks - 7:30 PM CST
Lone Star at New Mexico - 6:30 PM MST
Anchorage at Kenai River - 7:30 PM AKST
SUN, DECEMBER 5
Maryland at Northeast - 4:00 PM EST