NAHL announces monthly player awards for November
December 1, 2021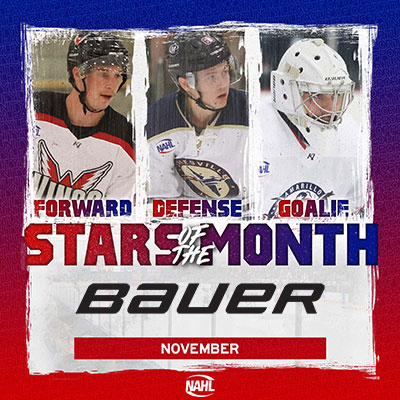 The North American Hockey League (NAHL) has announced its monthly player awards for the month of November. The Forward of the Month is Cade Neilson from the Aberdeen Wings. The Defenseman of the Month is Cal Mell from the Janesville Jets. The Goaltender of the Month is Max Gutjahr from the Amarillo Wranglers. Only players who are nominated by their respective teams are considered for the NAHL monthly awards.
Bauer Hockey NAHL Forward of the Month: Cade Neilson, Aberdeen Wings
Aberdeen Wings forward Cade Neilson, 20, had a torrid month of November, recording 20 points (5 goals, 15 assists) in just eight games played. The 6'0/195 lbs. native of Nottingham, England, took over the scoring lead in the NAHL with his effort as he now has a league-leading 35 points to date. Neilson recorded at least a point in all eight games and had seven multi-point games. The Alaska-Fairbanks recruit is currently riding a 10-game point streak and has recorded a multi-point game in six straight games. In 123 career NAHL games to date, Neilson has recorded 107 points. "Cade elevated his play through the month of November. Night in and night out he has found a way to impact the game and continues to be a good leader of our group on and off the ice," said Wings head coach Steve Jennings.
"I attribute a lot of success to my line mates, Ronan Walsh and Jacob Bosse. We have been a locked in as a line this month and they have been producing at a rapid rate as well, which has been a pleasure to be a part of. I do believe we have found our stride together and with some puck luck thrown in there, it has been a fun month of hockey. I have also started to focus on more of a shoot first mentality, which has helped create a lot more scoring opportunity. I have been put in a position by the coaching staff to utilize the creative side of my game if I continue to be responsible on the defensive side of the puck," said Neilson. "The most important goal for this season is to win a Robertson Cup. After being so close last year, there is a fire in our locker room to make that a reality this year. Then once I get to college, I want to be successful on and off the ice. My goal is to be a go to guy at Alaska-Fairbanks and be able to help the team in any way I can. Finally, once I am done with college, the goal is to play professional hockey at the highest level I can and hopefully continue to be productive at that level as well."
Runner-Up: Cy LeClerc, Janesville Jets
Honorable Mention (alphabetical): Jacob Badal, Johnstown Tomahawks - Dillan Bentley, New Mexico Ice Wolves – Gavin Best, Minnesota Magicians – Anthony Calafiore, New Jersey Titans – Zach Dill, Corpus Christi IceRays – Gabe Dombrowski, Danbury Jr. Hat Tricks – Damon Furuseth, Austin Bruins – Elliott Lareau, Maryland Black Bears – William Lawson-Body, Wichita Falls Warriors – Jake McLean, Bismarck Bobcats – Jonny Meiers, Maine Nordiques – Nicholas Niemo, Lone Star Brahmas – Ryan O'Neill, St. Cloud Norsemen – Carter Rapalje, North Iowa Bulls – Jared Scott, Northeast Generals – Talon Sigurdson, Anchorage Wolverines – Zack Simon, Minot Minotauros – Anthony Vidrick, Amarillo Wranglers
Bauer Hockey NAHL Defenseman of the Month: Cal Mell, Janesville Jets
Janesville Jets defenseman Cal Mell, 20, helped his team stay in the thick of the playoff race in the Midwest Division in Novemeber. The 5'10/180 lbs. native of Cumming, GA, had 10 points in nine games played during the month. His 10 points were tops among all NAHL defensemen and he was also a +8 during the month. Mell, who is also an NAPHL grad, had three multi-point games and has recorded at least a point in six of his last seven games. He currently has 14 points in 23 games played so far during the 2021-22 season. "We are excited that Cal is being recognized by the league for his accomplishments this month. He has played an integral role in swinging the momentum of our season in the right direction. Cal is a complete hockey player. He has tremendous hockey IQ, makes plays, runs the power play, blocks shots, defends hard, kills penalties, plays tough and physical, and of course is our captain. You couldn't ask for more from him. Every single day he leads by example. He's going to be a great NCAA Division I hockey player and student. I can't say enough good things about Cal as a player and person," said Jets head coach Parker Burgess.
"After a slow start to the season where we seemed to be losing close games, the team realized that we needed to turn things around and just take our compete level up a bit and find ways to win by focusing in on our habits and details. For me personally, I was just looking for simple plays that would transition the puck quickly and allow our forwards to get some odd man rushes. The majority of the credit goes to the guys around me who were able to create and finish plays off of the transitions," said Mell. "There are some goals that I have for the season. I'd love to get an opportunity to play at the NCAA Division I level, but my focus right now is just getting better and making the guys around me better every day. I believe this will lead to team success and will allow my teammates to have their own success as well."
Runner-Up: Jakub Peterson, Amarillo Wranglers
Honorable Mention (alphabetical): Clay Allen, Anchorage Wolverines – Mitch Becker, New Mexico Ice Wolves – Joshua Burke, Danbury Jr. Hat Tricks – Vincent Corcoran, Wichita Falls Warriors – Tyler DesRochers, Northeast Generals – Jayden Jensen, Corpus Christi IceRays – Sean Kilcullen, Maryland Black Bears – Jack Malinski, Austin Bruins – Cole Mickel, Minot Minotauros – Tyler Nasca, Lone Star Brahmas – Ethan Perreault, Johnstown Tomahawks – Will Svenddal, Minnesota Magicians – Sean Vlasich, North Iowa Bulls – Jon Ziskie, Bismarck Bobcats
NAHL Goaltender of the Month: Max Gutjahr, Amarillo Wranglers
Amarillo Wranglers goalie Max Gutjahr, 20, made his mark during the month of November as the Wranglers regained the lead atop of the South Division. The 6'1/180 lbs. native of Appleton, WI, posted a 7-1-0 record in eight games during the month. Gutjahr stopped 254 of a possible 270 shots during the month, which was good for a 1.80 goals against average and a .938 save percentage. He also had two shutouts during the month. Gutjahr, who spent time last season with both the Amarillo Bulls in the NAHL and the North Iowa Bulls in the NA3HL, currently leads the NAHL with 14 wins and ranks in the Top 7 in both goals against average and save percentage. "Max has been the stabilizing force in our inaugural season. His competitive spirit in practice, games, overtime or during shootouts, has inspired our team to play its best every night. Max has truly earned this award and it is always rewarding to see a great young man and goalie recognized got his efforts," said Wranglers head coach Harry Mahood.
"Looking back in the month, I tried to make sure to use the week of practice to prepare for situations I would see in games. I also did drills in practice to simulate goals other teams scored on me the week prior to try and prevent them from happening again," said Gutjahr. "My goals for this season are to help my team continue to win games and ultimately have a chance to compete for the Robertson Cup in May. I would also like to give myself a chance to advance my hockey and academic careers at an NCAA Division I program."
Runner-Up: Raythan Robbins, Anchorage Wolverines
Honorable Mention (alphabetical): Damon Beaver, Corpus Christi IceRays – Luca Di Pasquo, Maryland Black Bears – Hunter Garvey, North Iowa Bulls – Beni Halasz, New Mexico Ice Wolves – Zach Hansen, Chippewa Steel – Klayton Knapp, Austin Bruins – Owen Millward, Janesville Jets – Matthew O'Donnell, Wichita Falls Warriors – Zach Sandy, Minot Minotauros – Josh Seeley, Danbury Jr. Hat Tricks – Jan Skorpik, Lone Star Brahmas