November 26, 2021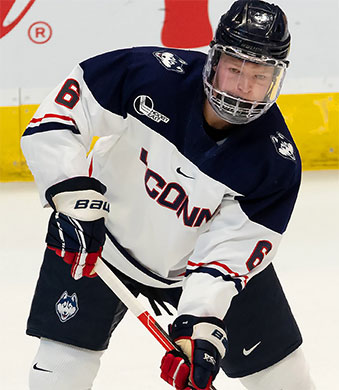 Former Janesville Jets and Corpus Christi IceRays defenseman and NAPHL grad Grant Hutton made his NHL debut this past week on November 20th with the New York Islanders.
"It was unbelievable," Hutton said. "I've been with the organization for about three years now. You look forward to the first one so being able to have the first one here at UBS is a pretty special feeling. Obviously, I feel for the guys that deserve to be out there and couldn't."
Hutton is another great example of a Ladder of Development success story. His midget hockey was played in the NAPHL for the Indiana Jr. Ice (now Indy Jr. Fuel) during the 2010-11 and 2011-12 seasons. Hutton won a NAPHL Dixon Cup 16U Championship in 2012 playing for the Indiana Jr. Ice, a team that allowed just five goals in five games on their title run. In 38 career NAPHL games, Hutton recorded 33 points.
He would then spend three seasons in the North American Hockey League (NAHL) with the Corpus Christi Ice Rays and Janesville Jets. He recorded 43 points (14 goals, 29 assists) in 117 career NAHL contests. Hutton played two seasons in Corpus Christi with the IceRays from 2012-14 and then spent the 2014-15 season with the Janesville Jets.
Prior to his professional hockey career, Hutton spent four years playing Division l hockey at the University of Miami-Ohio, the same alma mater as current Islanders defenseman and NAHL alum Andy Greene. Hutton totaled 71 points (29G, 42A) for the Redhawks during his four seasons. Like Greene, Hutton was a captain during his career at Miami. Hutton wore an 'A' for his sophomore and junior seasons but was named the team's captain during his senior year with the Redhawks.
Atlantic Hockey Player of the Week: Jake Stella, F, AIC (Corpus Christi IceRays) - AIC junior Jake Stella recorded his first career hat trick in AIC's 5-0 win over Bentley in their series opener on Nov. 18. The Karlstad, Sweden native opened the scoring with what would be the eventual game-winner at 11:27 of the first period and added a power play goal a little less than four minutes later to cap a 3-0 AIC scoring run that covered 3:57 of the opening frame. He added a power play goal for the Yellow Jackets' final tally of the contest. Stella fired seven shots on goal in the series and won nine faceoffs in the two games. This is his first Atlantic Hockey weekly honor of the season.
Atlantic Hockey Defensive Player of the Week: Patrick Dawson, D, Sacred Heart (Odessa/Lone Star) - Sacred Heart junior Patrick Dawson led all Pioneer defensemen in points this weekend at Air Force, scoring the game-winning goal and notching an assist in the Pioneers' 3-1 victory over the Falcons on Saturday. The Medway, Mass., native also recorded two blocks and four shots on goal in the two-game weekend set. This is his first Atlantic Hockey weekly honor this season.
Atlantic Hockey Goalie of the Week: Gavin Abric, Army West Point (Maryland/Chippewa) - Army West Point sophomore Gavin Abric extended his unbeaten streak to five games after stopping 58-of-62 shots at Niagara, the fifth-highest save total for a series in the AHA this season. Abric was even tougher when Army had its back against the wall, making six saves down the stretch in game one to preserve the tie. The Hayward, Wisc., native turned in a 40-save performance in game two to lead the Cadets to a key victory over NU. The weekend saves total gives him three of the top five series save performances in the conference in 2021-22. Abric is 4-0-1 in his past five starts and remains the AHA leader in GAA (1.87) and save percentage (.944). This is his first Atlantic Hockey weekly honor this season.
B1G #3 Star: Jimmy Dowd Jr., F, Penn State (New Jersey Titans) – Dowd recorded three points on a goal and a pair of assists to help the Nittany Lions split the weekend with No. 7/7 Minnesota. He collected a pair of assists, including a helper on the game-winning goal, in Friday's 5-3 victory. Dowd scored his first goal of the season on Saturday at the 5:45 mark of the second period to give Penn State a 1-0 edge. This is his first career weekly honor.
CCHA Forward of the Week: Coale Norris, Bowling Green (Amarillo/Springfield) - Coale Norris scored a team-high four points on thr weekend to help Bowling Green sweep Lake Superior State. Norris scored the Falcons' first goal, then assisted on their second. After the Lakers scored to cut BGSU's lead to 2-1, Norris scored his second goal of the night. The senior also assisted on Bowling Green's next score, helping the Falcons earn a series-opening win over LSSU. His total of four points is the highest in a single-game for any BGSU player this season.
CCHA Goaltender of the Week: Dryden McKay, Minnesota State (Corpus Christi/Springfield) - Dryden McKay was perfect on the weekend in backstopping #3 Minnesota State to a pair of CCHA wins over St. Thomas. He recorded shutouts in both games, having 13 saves in last Thursday's 9-0 home win over the Tommies and turned aside nine shots in Saturday's 5-0 victory. He has five shutouts and the season and has extended the NCAA Division I men's hockey career shutout record to 29 games.
Hockey East Defender of the Week: Ryan Wheeer, UConn (New Jersey Titans) - Ryan Wheeler (Sr., D; Lancaster, N.Y.) scored his second goal of the sea- son to help the Huskies to a 2-1 home win over #15 UMass Lowell, earning the Huskies a weekend split. He also blocked five total shots on the week- end, including three in Sunday's win.
Hockey East Goalie of the Week: Mike Robinson, New Hampshire (Springfield Jr. Blues) - Mike Robinson (Sr., G; Bedford, N.H.) made 32 saves and only allowed one goal for a .970 save percentage in a 2-1 overtime win over #8 UMass on Saturday, Nov. 20.
NCHC Goalie of the Week: Brandon Bussi, Western Michigan (Amarillo/New Jersey) - Bussi was nearly perfect on the weekend, surrendering only two goals while backstopping WMU to a sweep of then-No. 2 St. Cloud State. The junior made 28 saves in Friday's 6-2 win, while missing eight minutes of game action to receive stitches for a facial laceration, and allowed only one even-strength goal and a power play goal in the opener. The next night, Bussi recorded his second career shutout, both this season, with a 36-save effort in a 4-0 victory. He helped hold the nation's second-ranked power play to just one power play goal in seven opportunities. Bussi ended the series with a 2-0-0 record and a 1.07 goals-against average. He stopped 64 of the 66 shots he faced for a .970 save percentage, which led all NCHC netminders on the weekend. On the season, Bussi is 8-4-0 with a .910 save percentage, a 2.70 GAA and two whitewashes.