Tomahawks double up Danbury to earn weekend split
November 21, 2021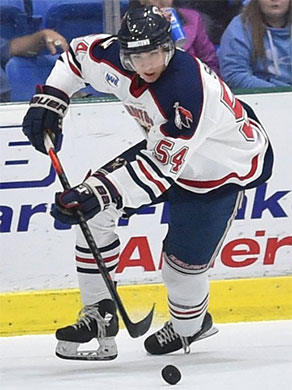 Danbury 3 @ Johnstown 6 – Egan Schmitt and Ryan Vellucci each had three-point games as the Johnstown Tomahawks salvaged a weekend split against the Danbury Jr. Hat Tricks thanks to a 6-3 win in the lone NAHL game on Sunday.
In similar fashion to Saturday night's game, Danbury opened the scoring early with a goal from Marian Haborak on the power play to make it 1-0.
Noah Wagner opens the scoring for the Tomahawks 4:14 into the 2nd period, netting his first goal of the season and our Undies Sunday goal. Jacob Badal scored his seventh goal of the season just 1:16 later to give the Tomahawks their first lead of the afternoon against Danbury. Not long after that, newcomer Egan Schmitt secured his first goal of the season as well to give the Tomahawks a 3-1 lead. Peter Lychnikoff added on a second goal later in the period for Danbury and the game was headed to the final period with the Tomahawks ahead 3-2.
The 3rd went on quietly until Johnny Ulicny found the back of the net with 4:10 to go in regulation, making it 4-2 for the Tomahawks, followed by a power play goal going to Zachary Murray 42 seconds later. The Hat Tricks responded though with a goal from Jazz Krivtsov. Schmitt secured the 6-3 win for the Tomahawks, getting his second goal of the game on the empty net with 6 seconds to go in regulation.
Salvatore Evola made 28 saves in the win, while Adam Johnson made 29 saves in the loss.