Kenai River, Danbury, and the Wilderness win on Thursday
November 19, 2021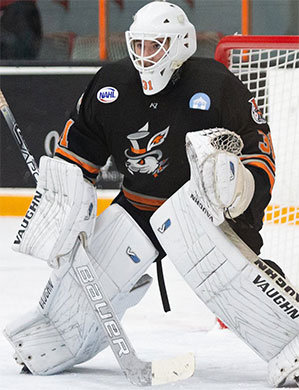 Springfield 2 @ Kenai River 4 – Caden Triggs scored twice to lead the Brown Bears to a 4-2 home win over the Jr. Blues. The Brown Bears jumped out to a 3-0 lead with 1st period goals from Triggs and Bryce Monrean. In the 2nd period, Triggs scored his second of the game to make it 3-0. Springfield got on the board later in the period with a goal from Connor Smith. Before the period was over, Kenai River took a 4-1 lead thanks to a power play goal from Luke Panchisin. Jonathan Panisa had the other goal for Springfield in the loss. Tommy Aitken made 21 saves in the win, while Ethan Roberts made 41 saves in the loss.
New Jersey 1 @ Danbury 6 – Danbury turned the tables on New Jersey from the night before and got 44 saves from Josh Seeley in a 6-1 on Thursday. The teams were knotted at 1-1 after one period as Hunter Young scored for Danbury and David Posma scored for New Jersey. Danbury broke the game open in the 2nd period with goals from Boris Skalos and Mike Salandra. In the 3rd period, goals from Jazz Krivtsov, Miles Harrington, and another from Salandra completed the scoring. Titans goalie Ben Chartette made 23 saves in the loss.
MN Wilderness 3 @ Chippewa 2 (SO) – It took 12 combined shooters, but the Minnesota Wilderness outlasted the Chippewa Steel in a shootout on Thursday, 3-2. The teams were even at 1-1 after one period as Cole Crusberg-Roseen scored for Minnesota and JJ Grainda answered for Chippewa. In the 3rd period, the Steel took a 2-1 lead with a goal from Barak Braslavski, with the Wilderness tying the game late on a goal from Ethan Wolthers. In the shootout, Barrett Hall's goal as the sixth Wilderness shooter was the difference. Sam Livecchi made 33 saves in the win, while Zach Hansen made 22 saves in the loss.