Titans tie for East lead with win over Danbury
November 18, 2021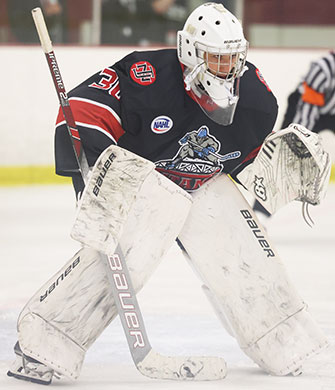 New Jersey 4 @ Danbury 1 - The visiting New Jersey Titans used a balance attack on Wednesday to defeat the Danbury Jr. Hat Tricks 4-1 in game one of this two game afternoon series.
The Jr. Hat Tricks opened the scoring with 3:20 remaining in the first period as Robert Hyde cut towards the bottom of the faceoff circle and took a sharp angle shot that Ben Charette long side for his second goal of the season.
Then it was all Titans scoring four unanswered goals.
Colin Grable tied the game at 6:21 into the second period as he skated all along to the goalmouth and deked around Danbury netminder Josh Seeley and deposited the puck into the empty net for his second goal of the season.
The Titans then took a 2-1 lead with 4:43 remaining in the second period as Anthony Calafiore took a wrist shot that beat Seeley low, long side to eight goal of the season, and his team high tenth point against Danbury.
The Titans doubled their lead at 3-1 with 7:24 left in the game as Marcus Sang took a wrist shot that was saved by Seeley but the deep rebound came out to Levente Keresztes who took a one-timer that beat Seeley high glove side for his fifth goal of the season.
A minute and a half later, Brendan Dumas lit the lamp for this ninth goal of the season to close out the scoring and make it a 4-1 game.
Charette turned aside 24 of 25 shots in the win while Seeley stopped 51 of 55 in defeat.