November 17, 2021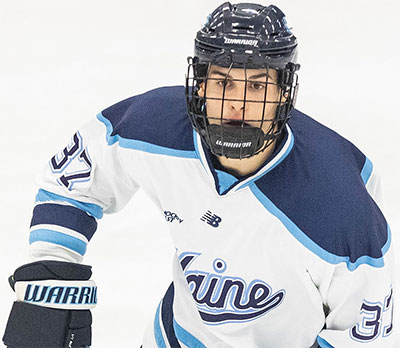 ECAC Player of the Week: Max Andreev, F, Cornell (New Jersey Titans) – Andreev was dominant this weekend, averaging four points per-game (4-4) in Cornell's weekend sweep of Union and RPI. After a two assist outing in Friday's 4-1 win over the Dutchmen, the senior came back on Saturday with the best game of his career. He registered six points (4-2) in an 11-3 win against RPI, becoming the first Big Red skater to record six points in a game since November, 2003.
Hockey East Rookie of the Week: David Breazeale, D, Maine (Shreveport Mudbugs) - Breazeale scored his first career goal at 4:19 of overtime to hand the Black Bears a 6-5 home victory over Merrimack on Friday night, Ben Barr's first as head coach at Maine. The rookie blueliner also dished out two assists, each on a tally that tied the game for Maine. The second helper came at 18:33 of the third period with the Maine goaltender pulled, pushing the game into the extra frame where he netted the decisive tally.
Atlantic Hockey Player of the Week: Colin Bilek, F, Army West Point. (Northeast Generals) - Army West Point senior Colin Bilek broke out for his best game of the season with a hat trick performance in a 6-3 win over ECAC foe Yale on Saturday. Bilek's second career three-goal night came with one assist and a +1 rating on six shots against the Bulldogs. The Brighton, Mich., native also led the charge on special teams for the Black Knights, scoring a shorthanded goal, a power-play tally and power-play assist as Army cruised to the win. Bilek opened the scoring with a shorthanded goal at 7:19 of the first period then assisted on Brett Abdelnour's second period power-play marker before netting two goals in a three-score third period for the Black Knights.
Atlantic Hockey Player of the Week: Jacob Barczewski, Canisius (Janesville Jets) - Canisius goaltender Jacob Barczeweski posted a 1.50 goals-against average and a .945 save percentage in helping lead Canisius to a sweep of then-RV/UR RIT on home ice last weekend. The O'Fallon, Mo., native made 52 saves on 55 shots in the series, with all three goals against coming while Canisius was shorthanded. The junior netminder made 24 saves in a 5-2 victory over the Tigers in the opener and recorded an assist on the Griffs' final goal of the game for his third career point. In the series finale, Barczewski made 28 saves to keep the Tigers off the board before a power-play goal in the final 30 seconds of regulation spoiled the shutout bid.
Atlantic Hockey Rookie of the Week: Andrew DeCarlo, F, Air Force (Lone Star Brahmas) - Air Force freshman forward Andrew DeCarlo tallied three points on three assists as the Falcons split their home AHA series with Bentley. The Huntington Beach, Calif., native assisted on Air Force's game-winning tally on Friday and turned in a career-high two assists on Saturday.
CCHA Goaltender of the Week: Rico DiMatteo, Northern Michigan (Lone Star Brahmas) - Northern Michigan sophomore goaltender Rico DiMatteo played a critical role for the Wildcats this weekend recording 60 saves on 66 shots, a 3.00 goals against average (GAA) and a .910 save percentage (SV%). DiMatteo was the difference maker recording an impressive 43 saves to earn the Wildcats an overtime win on the road at rival Michigan Tech Friday.
CCHA Rookie of the Week: Jere Vaisanen, F, Bemidji State (Amarillo Bulls) - Bemidji State freshman forward Jere Vaisanen logged two goals to lead BSU to a 4-2 victory at Lake Superior State Saturday and helped the Beavers sweep Lakers on the road. He netted his first collegiate game-winning goal Friday, recorded five shots and a plus-two rating on the weekend.
ECAC Goalie of the Week: Ethan Haider, G, Clarkson (Minnesota Magicians) - Haider allowed just two goals on 66 shots this weekend, backstopping Clarkson to a big sweep of Harvard and Dartmouth. He made 37 saves in a 6-2 win against No. 10 Harvard on Friday, before posting his first shutout of the season in a 3-0 win against the Big Green on Saturday, making 27 saves in the process. The reigning Rookie of the Year finished the weekend with a .970 save percentage, and 1.00 GAA.
NCHC Goalie of the Week: Ryan Fanti, Minnesota Duluth (Minnesota Wilderness) - Fanti was perfect on the weekend, not allowing a single goal while backstopping Minnesota Duluth to a five-point series against Colorado College. He recorded shutouts both nights against CC, giving him three straight whitewashes after entering with no shutouts in his career. Fanti made 23 saves in Friday's 5-0 victory, before making 26 more stops in Saturday's 0-0 overtime tie, including three saves in the extra session. He also turned aside all three Tiger shootout attempts Saturday to secure the extra point in the NCHC standings for the Bulldogs. Fanti totaled 49 saves while going 1-0-1 in the series, posting a perfect 1.000 save percentage and a 0.00 goals-against average. He's the first UMD netminder to record back-to-back shutouts since Hunter Shepard blanked Miami twice on Jan. 18-19, 2019. The last time an NCHC goalie blanked an opponent back-to-back was Miami's Ryan Larkin, who shut out Omaha twice in a row on Feb. 28-29, 2020. On the season, Fanti is 6-1-1 with a .946 save percentage that ties for second nationally, while his 1.36 GAA is third in NCAA men's hockey. His three whitewashes this season also tie for second in the country.