November 12, 2021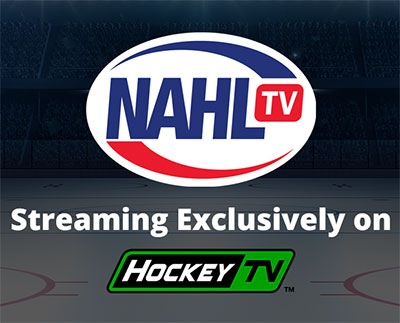 It's another busy weekend in the NAHL as 28 of the 29 teams are in action with 14 games on both Friday and Saturday.
It was another good week for the league, which saw four more players make NCAA Division I commitments, bringing the 2021-22 season total to 119 players who have committed to play NCAA Division I hockey.
One of the things the NAHL does better than any other junior league is seeing their players earn an NCAA opportunity while playing and being showcased in the NAHL. During the 2020-21 season, a record number of 395 NAHL players made NCAA commitments, with 293 of those (74%) being a record number of NCAA Division I commitments.
In addition, another alumni, Paul Cotter (Brookings Blizzard, 2016-17) made his NHL debut this past week with the Vegas Golden Knights. Over 40+ NAHL alumni are currently playing in the NHL.
In the Central Division, 1st and 2nd place collide this weekend as close rivals Austin and North Iowa do battle in a home-and-home series with the two clubs separated by just two points. A battle of 3rd and 4th place goes down in Minot as the Minotauros host the St. Cloud Norsemen with the two teams separated by a single point. The final series features the Aberdeen Wings and Bismarck Bobcats battle in a home-and-home series.
In the East, Danbury is idle while the other six teams are in action. The Jamestown Rebels will try and slow down the red-hot New Jersey Titans, who are 9-0-1 in their last 10 games. The 1st place Maryland Black Bears travel North to take on the Maine Nordiques and new head coach Matt Pinchevsky. The Northeast Generals look to continue their winning ways as they travel to Johnstown to take on the Tomahawks.
In the Midwest, the is a cluster of teams towards the top as team 1-6 are separated by just five points. Both division leaders, Fairbanks and Springfield, do battle this weekend in Alaska. Kenai River and Anchorage continue their rivalry in Anchorage this weekend after splitting last weekend in Soldotna. In other action, winning streaks are on the line as the Wilderness visit the Jets for a two-game series. The final series as the Minnesota Magicians and Chippewa Steel battling in a home and home series.
In the South, all eight teams are in action. 1st and 2nd place do battle this weekend as the Odessa Jackalopes host the Amarillo Wrangles with the Jacks holding onto a slim one-point lead at the top. 3rd and 4th place also tangle this weekend as New Mexico hosts Wichita Falls. In other action, Lone Star hosts Shreveport, while Corpus Christi hosts El Paso.
Watch all the action on HockeyTV
Download the all new NAHL App today! (iOS - Google Play)
FRI, NOVEMBER 12
Maryland at Maine - 7:00 PM EST
New Jersey at Jamestown - 7:05 PM EST
Northeast at Johnstown - 7:30 PM EST
North Iowa at Austin - 7:00 PM CST
MN Wilderness at Janesville - 7:00 PM CST
Chippewa at MN Magicians - 7:00 PM CST
El Paso at Corpus Christi - 7:05 PM CST
Aberdeen at Bismarck - 7:15 PM CST
Amarillo at Odessa - 7:15 PM CST
Shreveport at Lone Star - 7:30 PM CST
St. Cloud at Minot - 7:35 PM CST
Wichita Falls at New Mexico - 7:30 PM MST
Kenai River at Anchorage - 7:00 PM AKST
Springfield at Fairbanks - 7:30 PM AKST
SAT, NOVEMBER 13
Northeast at Johnstown - 7:00 PM EST
Maryland at Maine - 7:00 PM EST
New Jersey at Jamestown - 7:05 PM EST
MN Magicians at Chippewa - 7:00 PM CST
MN Wilderness at Janesville - 7:00 PM CST
El Paso at Corpus Christi - 7:05 PM CST
Bismarck at Aberdeen - 7:15 PM CST
Amarillo at Odessa - 7:15 PM CST
Shreveport at Lone Star - 7:30 PM CST
Wichita Falls at New Mexico - 6:30 PM MST
Austin at North Iowa - 7:30 PM CST
St. Cloud at Minot - 7:35 PM CST
Kenai River at Anchorage - 7:00 PM AKST
Springfield at Fairbanks - 7:30 PM AKST