November 10, 2021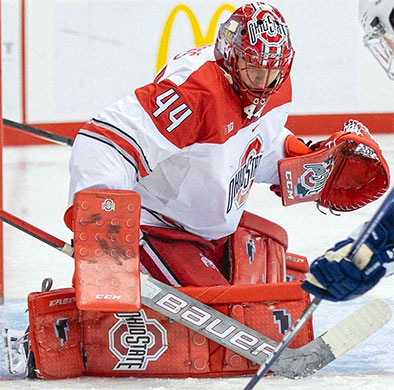 Jakub Dobeš (Topeka Pilots), a freshman goalie on the Ohio State men's hockey team, was named the Hockey Commissioners Association Men's Rookie of the Month for October and the B1G #2 Star of the Week. A native of Ostrava, Czech Republic, and Montreal Canadiens draft pick, Dobeš was 4-1-0 in his first month of collegiate hockey, with a .86 goals-against average and .964 save percentage. He made 32 saves against UConn Oct. 16 for his first shutout in the Scarlet and Gray. In all, he allowed four goals on 110 shots in 277:55 of game time and added an assist. He was named Big Ten Third Star of the Week after he stopped all 52 shots he faced to backstop the Buckeyes to a sweep of UConn. He is third overall in the NCAA in goals-against average and save percentage and ranks first among goalies with more than one game played. This past week he backstopped the Buckeyes to a sweep of No. 16/- Penn State, making 62 saves on 65 shots for a 1.50 goals-against average and .954 save percentage on the weekend. He allowed a goal on the third shot of the game and then stopped the next 25 as the Buckeyes came from behind to win with five straight goals on Nov. 5, finishing the night with a career-high 33 saves. He recorded 29 saves on Saturday, highlighted by 20 saves in the final two periods to hold the Nittany Lions to a single goal on the night.
Atlantic Hockey Player of the Week: Austin Alger, F, Canisius (Odessa Jackalopes) - Canisius forward Austin Alger matched a career-high with three points on a goal and two assists in Canisius' 6-3 victory at Bentley on Saturday. The Livonia, Mich., native recorded the primary assist on a power-play goal in the first period before notching the eventual game-winning goal on the power-play in the second period. Alger recorded the primary assist on the Griffs' fifth goal of the game to open the third-period scoring. This is his first Atlantic Hockey weekly honor this season.
Atlantic Hockey Defensive Player of the Week: Rourke Russell, D, Sacred Heart (Wichita Falls) - Sacred Heart defenseman Rourke Russell scored his first points as a Pioneer in Friday's series opener against Mercyhurst, recording two assists on Friday and two more the following day. The Long Beach, Calif., native led all Pioneers in points with four on the weekend. On top of racking up points, Rourke registered seven blocks in two games with four in Friday's matchup and three on Saturday that were crucial to preserving the two ties with homestanding Mercyhurst. This is his first Atlantic Hockey weekly honor this season.
Atlantic Hockey Goalie of the Week: Jacob Barczewski, Canisius (Janesville Jets) - Canisius netminder Jacob Barczewski stopped 63-of-68 shots faced in helping guide Canisius to a split of its league series at Bentley this weekend. The O'Fallon, Mo., native allowed just two even-strength goals in the series and stopped a career-high 40 shots in a 2-1 setback in the series opener. He recorded 23 saves in a 6-3 win against the Falcons in the series finale. This is Barczewski's first Goaltender of the Week honor this season.
Hockey East Player of the Week: Jakov Novak, F, Northeastern (Janesville Jets) - Jakov Novak had four goals, two in each game, to power the Northeastern offense to a weekend home-and-home sweep over New Hampshire. The tallies were his first goals and points as a Husky after transferring from Bentley as a senior. He netted the game-winning goal on Saturday.
NCHC Defenseman of the Week: Seamus Donohue, St. Cloud State (Wichita Falls) - Donohue played a key role at both ends of the ice to help St. Cloud State pick up five points in a pair of wins at Colorado College to open NCHC play. Offensively, he tallied three points in the series, while helping limit the Tigers to three goals all weekend. On Friday, Donohue handed out a pair of primary assists in a 3-2 overtime victory, setting up Jami Krannila for the tying goal late in the third period, then again finding Krannila for the overtime game-winner. The next night, Donohue dished out another assist, was +2, and helped the penalty kill go 2-for-2 in a 4-1 victory. Donohue ended the weekend with three assists, five shots on goal, a +3 plus/minus and four blocked shots, with two blocks each night. The assistant captain also anchored a penalty kill unit that finished 3-for-4 against CC in the series. On the season, Donohue now has seven assists and a +6 plus/minus in 10 games.
NCHC Goalie of the Week: Zach Driscoll, North Dakota (Austin Bruins) - Driscoll put together a pair of sparkling performances in goal to backstop North Dakota to a sweep of then-No. 11 Denver, allowing only one goal each night. On Friday, he stopped 22 of the 23 shots he faced, including 11 in the third period, as UND skated away with a 3-1 win. He also helped the penalty kill finish 3-for-3 on Friday. A night later, Driscoll made 21 more stops in a 4-1 victory as the Bemidji State transfer improved to 4-1-0 at home this season. Driscoll compiled a .956 save percentage in the series, tops among NCHC netminders on the weekend, as was his 1.00 goals-against average against Denver. He totaled 43 saves in the sweep and has now allowed two goals or less in five of his nine starts this season. Driscoll also helped UND finish the series a perfect 4-for-4 on the power play. Driscoll is now 6-3-0 on the season after the two wins over DU, while compiling a .904 save percentage and a 2.35 GAA on the season.
ECHL Goalie of the Week: Tyler Parks, Atlanta Gladiators (Minot/Springfield) - Tyler Parks of the Atlanta Gladiators is the ECHL Goaltender of the Week for Nov. 1-7.Parks went 2-0-0 with one shutout, a 0.60 goals-against average and a save percentage of .974 in two appearances last week. The 29-year-old made 17 saves in a 3-0 win over Jacksonville on Friday and turned aside 21 of the 22 shots he faced in a relief effort in a 7-5 victory against Greenville on Sunday. Under contract to Belleville of the American Hockey League, Parks is 2-1-0 in three appearances this season and ranks sixth in the ECHL with a 1.50 goals-against average and is tied for 10th with a .938 save percentage.