NAHL alum Cotter makes NHL debut
November 10, 2021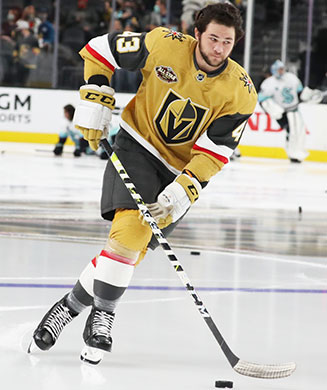 Former NAHL and Brookings Blizzard forward Paul Cotter made his National Hockey League debut on Tuesday, November 9th with the Vegas Golden Knights.
Cotter was a member of the Brookings Blizzard in the NAHL during the 2016-17 season, prior to the team's move to become the St. Cloud Norsemen. The Canton, Mich. native was a 4th round NHL draft pick of the Golden Knights in 2018.
Cotter, 21, made his NHL debut after a call-up from the team's AHL affiliate in Henderson. Cotter skated 11 shifts logging 8:27 of ice time with one shot on net and one hit.
In the 2016-17 season in Brookings, Cotter racked up 60 points on 28 goals and 32 assists in 59 games, taking home numerous NAHL awards including NAHL Rookie of the Year and being named to the All-NAHL 1st Team. He was also named the Central Division Most Valuable Player and Forward of the Year that season.
After junior hockey, Cotter was drafted 115th overall, a fourth-round pick by the Golden Knights, and spent that year playing both NCAA Division I Hockey at Western Michigan and in the OHL where he had 26 points in 48 games for the London Knights. Cotter spent the last three years playing in the AHL for the Chicago Wolves in 2019-20 and with the Henderson Silver Knights the for the last two seasons.
Prior to his NHL debut, Cotter spoke with the media in Vegas and shared his thoughts on his path through junior hockey to the professional level and his experiences. The full interview is below.
"I wouldn't change it. I've been in a lot of cities, a lot of different places, a lot of coaches, and I have a lot of buddies because of that," Cotter said. "It's been good I think for me, moving up basically a level each year. It's helped me, because I've been in places where I've been the main guy, and I've been in places where maybe I'm a third or fourth line guy. I think that helps me be versatile up and down the lineup and I think that's a big quality to have."