November 4, 2021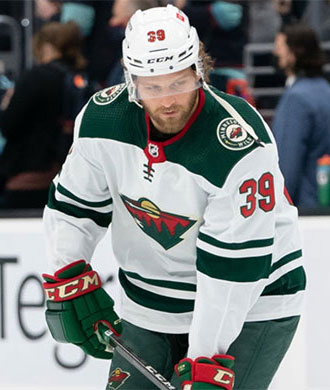 Former NAHL and Minot Minotauros defenseman Jon Lizotte made his NHL debut this past week as he played for the Minnesota Wild during their 4-1 loss to the Seattle Kraken back on October 28th. Lizotte played 14 minutes, 43 seconds in Minnesota's 4-1 loss to the Kraken. He saw 1:01 on the penalty kill. Lizotte was credited with three hits and a team-high four blocked shots. After graduating high school, he played two seasons with the Minot Minotauros, where he earned a scholarship offer from St. Cloud State. During the 2013-14 season he was named to the NAHL All-Rookie 2nd Team and during the 2014-15 season, he was named to the NAHL All-Central Division Team. In 116 career NAHL games, he recorded 59 points.
CCHA Goaltender of the Month/Week: Dryden McKay, Minnesota State (Corpus Christi/Springfield) - Minnesota State's senior goaltender Dryden McKay had a successful month against arguably one of the toughest schedules in all of NCAA Division I men's hockey. McKay played a key role in helping the Mavericks to a 6-2-0 record and posted three shutouts through the first eight games of the season along with a 1.64 goals against average (GAA) and a .914 save percentage (SAV%). McKay backstopped the Mavericks to a road sweep at defending NCAA National Champions and #1 ranked Massachusetts in the opening week before splitting with #2 St. Cloud State, beating #10 Providence, falling by one goal to #3 Michigan and sweeping Northern Michigan. McKay's third shutout this month earned him 27 career shutouts and set the all-time NCAA Division I men's ice hockey record, passing former Michigan State goaltender Ryan Miller (1999-2002). McKay also has 81 career victories and moves into a tie with Steve Carroll (MSU 1977-81) for the men's hockey career wins record at Minnesota State.
Atlantic Hockey Player of the Month: Carson Briere, F, Mercyhurst (Johnstown Tomahawks) - Carson Briere finished the month of October with a team high seven goals and nine points. Briere started the month with a with a three-point weekend against then-No.4/4 Minnesota. In his first Atlantic Hockey game of the season, he became the first Mercyhurst player since 2009 to score four goals in a game, with three coming on the power play. The Philadelphia, Pa., native extended his goal streak to four the next day. His month ended with tallying an assist against RIT on Oct. 29. Briere currently ranks 12th in the nation in points per game (1.50), third in goals, and is fourth in goals per game (1.17). He leads Atlantic Hockey in goals and points, and is tied for the lead in power-play goals.
CCHA Forward of the Month: Louis Boudon, Lake Superior State (Northeast Generals) - Lake Superior State junior forward Louis Boudon led the CCHA in points during the month of October with 16 points (6G, 10A) in 10 games played. In addition to leading the CCHA in points, Boudon also leads the CCHA in assists (10), and is tied for first in the conference in both goals (6) and power play goals (3). Among all NCAA skaters, Boudon is tied for first in assists and is tied for second in points. Boudon recorded points in eight of the team's 10 games which included four multi-point efforts. The Grenoble, France native set a single-game career-high in points in the Lakers 7-4 win over Union on Oct. 22 with four assists. He also posted his first career hat trick in the team's most recent game, a 7-1 win over St. Lawrence on Oct. 30. During the month of October, Boudon posted a career-best six-game point streak, where he posted 12 points (3G, 9A). Boudon was named the CCHA Forward of the Week on Oct. 25.
Atlantic Hockey Player of the Week: Will Gavin, F, Air Force (Springfield Jr. Blues) - Air Force forward Will Gavin recorded his first career hat trick in the Falcons' 5-4 overtime win over crosstown rival Colorado College on Friday. The effort was capped off by with an overtime game-winning goal, the first game-winner of the Durham, Conn., native's career. The win snapped a three-game losing streak to the Tigers and was Air Force's second overtime win of the season. Gavin's hat trick doubled his career goal total in Friday's contest and gave him his first points of the season. This is his first Atlantic Hockey weekly honor this season.
ECAC Goaltender of the Month: Emil Zetterquist, St. Lawrence (Coulee Region Chill) - Zetterquist (Stockholm, Swe.) backstopped St. Lawrence to a 1-1-2 mark during his starts in October, making more than 20 stops in each game while allowing only six goals. His best performance came in the season-opener at Colorado College, where he made 40 saves, allowing just one goal in a 1-1 tie. He stopped 117 of 123 shots that came his way, boasting a 1.45 GAA and .951 saver percentage.
Atlantic Hockey Defensive Player of the Week: Logan Britt, D, Sacred Heart (Aberdeen Wings) - Sacred Heart's Logan Britt led all Pioneer defensemen in assists this weekend with three in SHU's Atlantic Hockey series against Niagara. The Crystal Lake, Ill., native also fired seven shots on goal and blocked three shots as Sacred Heart split its two games with the Purple Eagles. He currently sits tied for second on the team in points with six on the year. This is his second Atlantic Hockey weekly award of the season. He was previously named Player of the Week on Oct. 4.
B1G 2nd Star: Jack LaFontaine, Minnesota (Janesville Jets) - LaFontaine backstopped the Gophers to a weekend sweep of Notre Dame to start the Big Ten season 2-0. He turned aside 28 shots in Friday's 4-1 win and followed up with 26 saves in Saturday's 3-2 victory at 3M Arena at Mariucci. He finished the series with a save percentage of .947 and a 1.50 goals-against average. He earns his fifth career weekly award and his first of the season.
CCHA Forward of the Week: Brendan Furry, Minnesota State (Amarillo Bulls) - Minnesota State junior forward Brendan Furry registered six points in two wins over Northern Michigan last weekend. Had two assists in Friday's 4-2 victory over the visiting Wildcats. Furry posted his first career hat trick when he scored three times and added an assist for a four-point night in Saturday's 7-0 win. His first goal of the game held up as the game-winning goal as the Mavericks upped their record to 6-2 for the season. Furry also won 21 of 28 face-offs in the CCHA home sweep.
CCHA Rookie of the Week: Bradley Marek, Ferris State (Springfield Jr. Blues) - Big Rapids local Bradley Marek is third amongst all CCHA freshmen in point-scoring, and finished first in freshman goal-scoring in the CCHA this past weekend. Marek's power play goal Saturday gave the Bulldogs a 2-1 lead that would turn into a 4-2 win. He is currently tied for third in team point-scoring and leads the Bulldogs with 18 shots on goal. He has become a key part of the Bulldog unit as a strong penalty killer and one of the top shot-blocking forwards in the CCHA. He is the only freshman in NCAA men's Division I Ice Hockey in the top 50 in total face off wins, winning 17 more this weekend and was above 50 percent for his fourth consecutive weekend.
ECAC Goalie of the Week: Luke Kania, Brown (MN Wilderness/Aberdeen) - In his first start in nearly two years, Kania (Gr. - Chicago, Ill.) was outstanding, recording 32 saves in a season-opening shutout against Yale. It marked the third shutout of Kania's career. The graduate senior made 25 saves in the first two periods before shutting the door on the final seven attempts in period three. Each save turned out to be key, as the Bears pulled off a 2-0 win over the Bulldogs.
NCHC Goalie of the Week: Isaiah Saville, Omaha (Minnesota Magicians) - Saville was sharp in net in his lone start of the weekend Friday against Long Island, backstopping Omaha to a 6-0 shutout in the first ever meeting between the teams. He made 23 saves to earn his second whitewash of the season (also Oct. 3 vs. Lake Superior State) and his fourth career shutout. Of his 23 saves, nine each came in the first and third periods, including two short-handed saves, as he helped Omaha go 5-for-5 on the penalty kill. With the win, the Vegas Golden Knights prospect stretched his personal winning streak to a career-long six games, while the Mavericks are now on a seven-game win streak. Saville improves to 6-1-0 on the season with the win. With his 1.000 save percentage in Friday's contest, he is now second in the NCHC with a .931 save percentage, while his 1.55 goals-against average on the season is also second in the NCHC. Saville is now a three-time NCHC Goaltender of the Week this season, also winning in weeks 1 (Oct. 4) and 3 (Oct. 18), while he has four career NCHC Goalie of the Week nods and six career NCHC weekly honors.
NCHC Rookie of the Week: Brett Chorske, F, Colorado College (St. Cloud Norsemen) - After not dressing for CC's first seven games of the season, Chorske made the most of his collegiate debut, tallying the first two points of his career to help lead the Tigers to a win over rival Air Force on Saturday. Chorske scored his first collegiate goal on the power play late in the second period to make it a 5-0 game, before tallying his first assist on CC's seventh goal in an 8-1 beatdown of the Falcons that secured the Pikes Peak Trophy for the Tigers for a third straight time. He finished Saturday's game +1 and scored on his only shot on goal, as CC earned its first ever win at the new Ed Robson Arena.