NAHL announces monthly player awards for October
November 3, 2021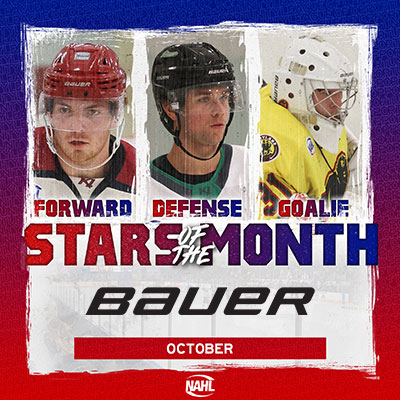 The North American Hockey League (NAHL) has announced its monthly player awards for the month of October. The Forward of the Month is Huston Karpman from the Minot Minotauros. The Defenseman of the Month is Bobby Metz from the Minnesota Wilderness. The Goaltender of the Month is Luca Di Pasquo from the Maryland Black Bears. Only players who are nominated by their respective teams are considered for the NAHL monthly awards.
Bauer Hockey NAHL Forward of the Month: Huston Karpman, Minot Minotauros
Minot Minotauros forward Huston Karpman, 20, had his best month in an NAHL uniform in October as he tied for the league lead in points during the month. The 5'11/194 lbs. native of Manhattan Beach, CA, had 16 points (8 goals, 8 assists) in nine games played in October, and was also a +9 during the month. The NAPHL grad recorded at least a point in eight of the nine games during the month and had six multi-point games. So far during the 2021-22 season, Karpman has recorded 20 points in 15 games played as he currently leads the Minotauros in scoring. "Huston has been a leader for us in every sense of the word. His ability to get to the middle and create offense has been very impressive over the last month. He has also been extremely valuable for us on the penalty kill. The entire Minotauros organization is excited to continue to watch Huston develop over the course of the season and we congratulate him on his Forward of the Month honors," said Minot head coach Cody Campbell.
"I am fortunate enough to play with some exceptional players with high-end skill and talent. I owe a lot of my success to those guys. I also have a great coaching staff that works with me weekly to develop me as a hockey player, and more importantly a man. I look forward to continuing to help my team win hockey games and make a push for the Robertson Cup," said Karpman. "I hope to keep improving my game in all areas and continue an upward trajectory in my development. If I continue to do these things, I hope to earn an NCAA commitment to a winning program. After that, I hope that one day I can play professional hockey."
Runner-Up: Hunter Longhi, Minnesota Magicians
Honorable Mention (alphabetical): Dillan Bentley, New Mexico Ice Wolves – Ethan Benz, Chippewa Steel – Jake Black, Johnstown Tomahawks - Ryan Bottrill, Maryland Black Bears – Austin Brimmer, Shreveport Mudbugs – Gabe Dombrowski, Danbury Jr. Hat Tricks – Brendan Dumas, New Jersey Titans – Tyler Gaulin, Maine Nordiques - Calvin Hanson, Bismarck Bobcats – Dayne Hoyord, Odessa Jackalopes – Brent Keefer, Northeast Generals – Brandon Lajoie, St. Cloud Norsemen – John Lundy, Jamestown Rebels – Alex Malinowski, Fairbanks Ice Dogs – Cade Neilson, Aberdeen Wings – Nicholas Niemo, Lone Star Brahmas – Jens Richards, Austin Bruins – Max Scott, North Iowa Bulls – Talon Sigurdson, Anchorage Wolverines – Drew Vieten, Wichita Falls Warriors – Ethan Wolthers, Minnesota Wilderness
Bauer Hockey NAHL Defenseman of the Month: Bobby Metz, Minnesota Wilderness
Minnesota Wilderness defenseman Bobby Metz, 20, had a productive month of October. The 5'9/175 lbs. native of Bloomfield, MI, recorded eight points (3 goals, 5 assists) in nine games played during the month of October and was also a +4. The Colgate recruit recorded at least a point in seven of the nine games and is currently tied for 2nd among all NAHL defensemen with 13 points so far during the 2021-22 season. "Bobby is one of the hardest working and most committed players we have had play for the Wilderness. He has taken huge strides this season to become the player he is. It will be exciting to see him continue his development this season and move on to play NCAA Division I college hockey at Colgate," said Wilderness head coach Dave Boitz.
"I really focused on trusting myself. I've had great training and I just let my effort flow naturally through my game. My teammates and coaches were crucial to having a good start. Me and my defensive partner have really gelled, and it has shown in our play. I want to focus on continuing my development, helping my team win, and preparing to play in the NCAA," said Metz. "I'm really looking forward to playing at Colgate. I've done a lot of work to continue to prepare myself to include video, workouts, and extra ice to ensure I'm ready when the time comes. Ultimately, it's a daily process and I have faith in myself and that the work I'm doing will pan out nicely."
Runner-Up: Cooper Morris, Anchorage Wolverines
Honorable Mention (alphabetical): Jon Bell, Minnesota Magicians – Nikolai Charchenko, Minot Minotauros – Vincent Corcoran, Wichita Falls Warriors – Conner Couet, Odessa Jackalopes – Nolan Cunningham, Fairbanks Ice Dogs – Douglas Friberg, Northeast Generals – Connor Gallagher, Lone Star Brahmas – Hugo Gustafsson, Aberdeen Wings – John Hallard, Shreveport Mudbugs – Jeff Hutchinson, New Mexico Ice Wolves – Kadsen Johnson, Maine Nordiques – Joey Potter, North Iowa Bulls – Philip Tornqvist, Maryland Black Bears
NAHL Goaltender of the Month: Luca Di Pasquo, Maryland Black Bears
Maryland Black Bears rookie goalie Luca Di Pasquo, 18, had his best month of his junior career in October. The 6'1/181 lbs. native of Livonia, MI, posted a perfect 4-0 record and allowed just five goals in four starts during the month. Di Pasquo faced 122 shots in the four games and made 117 saves, which was good for a 1.23 goals against average and .959 save percentage in October. That included his first career shutout as he made 28 saves in a 5-0 road win in Danbury on October 30th. For the season, Di Pasquo is current 2nd in the NAHL in goals against averge (1.99) and 3rd in save percentage (.935). "Luca has continued to build his game since Day 1 and is more than deserving of this accolade. He is a great teammate and is always putting in the extra work before and after practice. Luca has a determination and hunger to be a successful NAHL goaltender and has become an NCAA Division 1 prospect. He has made the most of his opportunities so far, and we look forward to seeing him continue to develop in Maryland," said Black Bears head coach Clint Mylymok.
"I think the biggest factor in my success was focusing on having solid practices, which eventually translated into games. Another huge factor of my success was the help I received in front of me from my team, and the support from my teammates and coaches. Our hard work as a team day in and day out has not only brought us closer but helped us become a better team," said Di Pasquo. "I want to continue to help my team and make it to Minnesota and win a Robertson Cup Championship with my teammates. I want to continue to develop as a goalie and reach my dream of playing NCAA Division I college hockey, and receive a college education. Eventually, I would love to play professional hockey and create a great life for my family."
Runner-Up: William Proctor, Odessa Jackalopes
Honorable Mention (alphabetical): Damon Beaver, Corpus Christi IceRays – Devon Bobak, Shreveport Mudbugs – Hunter Garvey, North Iowa Bulls – Beni Halasz, New Mexico Ice Wolves – Kayden Hargraves, Fairbanks Ice Dogs - Hudson Hodges, Austin Bruins – Adam Johnson, Danbury Jr. Hat Tricks – Matt O'Donnell, Wichita Falls Warriors – Raythan Robbins, Anchorage Wolverines – Zach Sandy, Minot Minotauros – Arthur Smith, Lone Star Brahmas – Avery Sturtz, Maine Nordiques – Nolan Suggs, Jamestown Rebels – Andrew Takacs, New Jersey Titans – Dominik Wasik, Aberdeen Wings – Jacob Zacharewicz, Minnesota Wilderness