NAHL supports Children of Fallen Patriots Foundation in November
November 1, 2021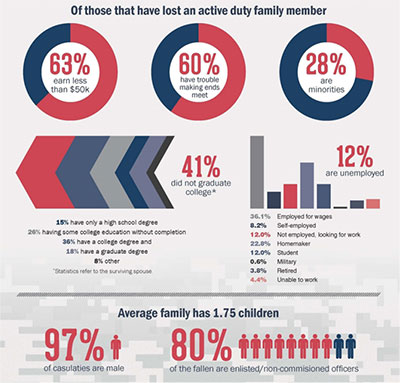 The North American Hockey League (NAHL) is always striving to recognize and thank our Nations service members. As a result, the league is spending the month of November with a heightened focus on recognizing and giving back to military members and their families.
During the month of November, the NAHL and its 29 member clubs will be partnering with and fundraising for the Children of Fallen Patriots Foundation, which provides college scholarships and educational counseling to military children who have lost a parent in the line of duty.
"We're grateful for the NAHL's partnership and for standing with us in supporting these young scholars who have lost so much," said David Kim, co-founder and CEO of Children of Fallen Patriots Foundation. "Investing in the education of Gold Star children is one of the best ways we can honor those who lost their lives defending our country."
The vision of Children of Fallen Patriots Foundation is to ensure that every child of a fallen patriot receives all necessary college funding. They are dedicated to serving the families of combat casualties and military training accidents as well as other duty-related deaths. Research has found that nearly 20,000 dependents have been left behind by troops who have fallen in the line of duty over the past 35 years. Many surviving families struggle to make ends meet with 63% of surviving spouses making less than $50,000 per year.
"We are honored to partner and help support the Children of Fallen Patriots Foundation," said NAHL Commissioner and President Mark Frankenfeld. "These children and their families have gone through the unimaginable pain of losing a parent in the line of duty. This is our way of showing them our support for our Nations service men and women who have given the ultimate sacrifice with the hope that helping them continue their education will lead to peace of mind as they realize their dream of attending college."
In addition to a variety of related activities in local markets, NAHL Member teams will embark on a bit of friendly competition as they work to raise the most funds, with a prize for the winner. The NAHL will support their efforts with a series of videos and social media posts in support of Children of Fallen Patriots Foundation as well as updates on the teams efforts throughout the month.
Fans can learn more and make a donation HERE.
NAHL teams will also be recognizing the Children of Fallen Patriots Foundation during home games throughout the month to help spread awareness and assist in the fundraising efforts.