Maine forward Green makes NCAA DI commitment
October 27, 2021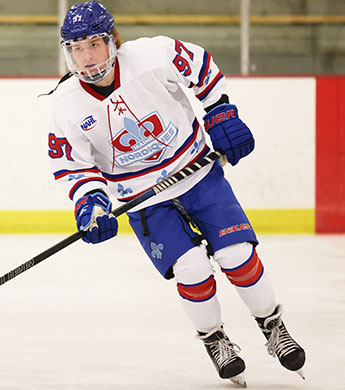 The Maine Nordiques of the North American Hockey League (NAHL) are proud to announce that forward Zion Green has committed to play NCAA Division I hockey at Northern Michigan University in the CCHA.
Green, 17, hails from Birmingham, Michigan and is in his first full season of playing junior hockey in the NAHL. Green (5'11/181) suited up with the Maine Nordiques U16 team last season where he lead the team in scoring with an impressive total of 33 goals and 35 assist for 68 points. Zion also suited up for two NAHL games last season. In those games, he was able to showcase his skills at the NAHL level and help the Nords to a sweep of the Danbury Hat Tricks.
He is the first legacy player in the Nordiques organization as his brother, Cannon Green, who is also an NCAA player at SUNY-Geneseo, also suited up for the Nordiques. Cannon holds the all-time assist record with 53.
Green currently has 7 points in his 8 games played so far during the 2021-22 season and scored the first goal of the season for the Nordiques. He has also earned his time on the man advantage giving the Nordiques coaching staff some key offensive firepower when the power play goes to work.
When asked about Green's commitment, Associate Head coach Matt Pinchevsky said, "Zion is a true student of the game. He is constantly looking for any possible way to develop and has taken full advantage of any area to grow in our organization. He challenges our opponents in many different ways. He is a very focused young man and will have a positive impact to the NMU program. Coach Potulny and his staff really do their homework. We are very proud of Zion and happy for the Green Family on his commitment to Northern Michigan University."
Click here for an updated NAHL to NCAA commitment list