October 22, 2021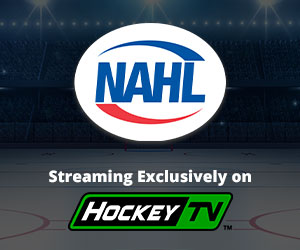 The NAHL has a busy couple of days this weekend with 24 games on Friday and Saturday as the month of October continues to wind down.
It was a banner week for the league, which saw five more players make NCAA Division I commitments, bringing the 2021-22 season total to 106 players who have committed to play NCAA Division I hockey.
One of the things the NAHL does better than any other junior league is seeing their players earn an NCAA opportunity while playing and being showcased in the NAHL. During the 2020-21 season, a record number of 395 NAHL players made NCAA commitments, with 293 of those (74%) being a record number of NCAA Division I commitments.
The league also got the news this past week that eight players with NAHL ties were listed in the Players to Watch list of NHL Central Scouting's preliminary rankings for the 2022 NHL Draft.
In the Central Division, the Austin Bruins, who have won three in a row and sit atop of the division with 17 points, are in action in Minot. Other action sees the North Iowa Bulls in Aberdeen for the first time, while St. Cloud returns from a weekend off to face Bismarck.
In the East, the Northeast Generals will try and slow down the hottest team in the division, the Maryland Black Bears, who are in 1st place with a 9-3-2 record and off to the best start in team history. In other action, the New Jersey Titans host maine, while Johnstown is in Danbury looking to extend their winning streak.
In the Midwest, the Chippewa Steel have two more games of a three-game set in Kenai after taking the first contest 6-2 on Thursday night. In other action, 1st and 2nd place teams meet in Fairbanks as the Ice Dogs host the Jr. Blues with Fairbanks trailing Springfield by just one point for 1st place. The Minnesota Wilderness will host the Janesville Jets. Anchorage and the Magicians are idle.
In the South, the New Mexico Ice Wolves will look to slow down the red-hot Odessa Jackalopes as they come into the series in 1st place and riding a five-game winning streak. Amarillo looks to keep the pressure on Odessa as they are in Lone Star. El Paso continues their homestand as they host Corpus Christi.
Watch all the action on HockeyTV
Download the all new NAHL App today! (iOS - Google Play)
FRI, OCTOBER 22
Northeast at Maryland - 6:30 PM EDT
Maine at New Jersey - 7:30 PM EDT
Johnstown at Danbury - 8:00 PM EDT
Shreveport at Wichita Falls – (postponed)
North Iowa at Aberdeen - 7:15 PM CDT
St. Cloud at Bismarck - 7:15 PM CDT
Janesville at MN Wilderness - 7:15 PM CDT
Amarillo at Lone Star - 7:30 PM CDT
Austin at Minot - 7:35 PM CDT
Corpus Christi at El Paso - 7:00 PM MDT
Odessa at New Mexico - 7:30 PM MDT
Springfield at Fairbanks - 7:30 PM AKDT
Chippewa at Kenai River - 7:30 PM AKDT
SAT, OCTOBER 23
Northeast at Maryland - 7:00 PM EDT
Maine at New Jersey - 7:00 PM EDT
Johnstown at Danbury - 8:00 PM EDT
Shreveport at Wichita Falls – (postponed)
North Iowa at Aberdeen - 7:15 PM CDT
St. Cloud at Bismarck - 7:15 PM CDT
Janesville at MN Wilderness - 7:15 PM CDT
Amarillo at Lone Star - 7:30 PM CDT
Odessa at New Mexico - 6:30 PM MDT
Austin at Minot - 7:35 PM CDT
Corpus Christi at El Paso - 7:00 PM MDT
Springfield at Fairbanks - 7:30 PM AKDT
Chippewa at Kenai River - 7:30 PM AKDT