NAHL players recognized by NHL Central Scouting
October 20, 2021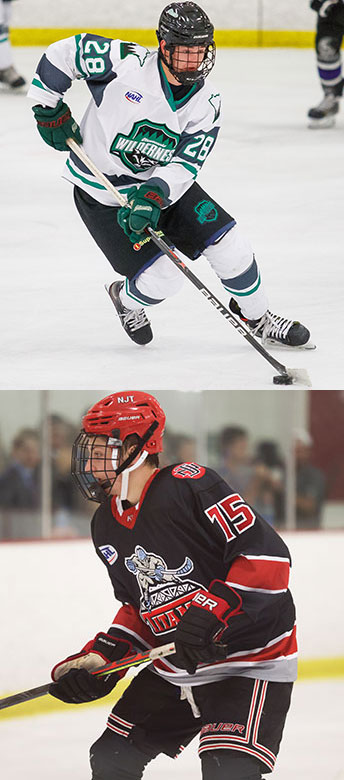 A little less than a month ago, over 300 scouts attended the NAHL Showcase. Thanks to another great event and on-ice performances by NAHL teams and players, the NAHL is pleased to announce that several players with NAHL ties have been recognized by NHL Central Scouting.
Eight players with NAHL ties have been recognized on the National Hockey League's (NHL) 'Prospects to Watch' list for 2022 draft-eligible players with the release of NHL Central Scouting's preliminary list of players to watch in North America and Europe.
The list included two players that are currently playing in the NAHL this season and six former players now playing in another league who all played in the NAHL during the 2020-21 season,.
Over 40+ NHL scouts, including those from NHL Central Scouting, were on hand at the NAHL Showcase back in September scouting players at the NAHL Showcase.
The record-breaking 395 NCAA commitments this past season and 1,600+ NCAA commitments and 30 NHL Draft picks in the last five years have coincided with an increased presence on the annual NHL Central Scouting players to watch list.
The lists, comprised of "A," "B" and "C" players for the upcoming season in each of the major junior hockey leagues, are sent to NHL team scouts for the purpose of tracking the top draft-eligible players entering the 2021-22 season. All "A" skaters have been identified as potential first-round picks, while "B" players are considered second- or third-round candidates. The players on the "C" list are thought to be fourth-, fifth- or sixth-round possibilities. Central Scouting's preliminary rankings will be revealed in November.
Current NAHL C-ranked players on the list (alphabetical)
Aaron Pionk, D, Minnesota Wilderness
Nick Ring, F, New Jersey Titans
NAHL players now in another league (alphabetical)
Patrick Geary, D, Waterloo Blackhawks/USHL (Northeast Generals, 2020-21)
Cameron Korpi, G, Muskegon Lumberjacks/USHL (Bismarck Bobcats, 2020-21)
Shaun McEwen, D, Tri-City Storm/USHL (Maine Nordiques, 2020-21)
Zam Plante, F, Chicago Steel/USHL (Minnesota Wilderness, 2020-21)
Eric Pohlkmap, D, Cedar Rapids RoughRiders/USHL (Minnesota Magicians, 2020-21)
Tristan Sarsland, D, Benilde-St. Margaret's/MNHS (Fairbanks Ice Dogs, 2020-21)
NHL Central Scouting's preliminary rankings will be revealed in November, then NHL Central Scouting will release its midseason rankings of 2022 draft-eligible players in January, followed by its final rankings in April.
The Montreal Canadiens will host the 2022 NHL Draft at Bell Centre in Montreal, Quebec. Next year's Draft will be held over two days on July 7-8, 2022.