Wolverines take rubber match on Sunday, 4-1
October 18, 2021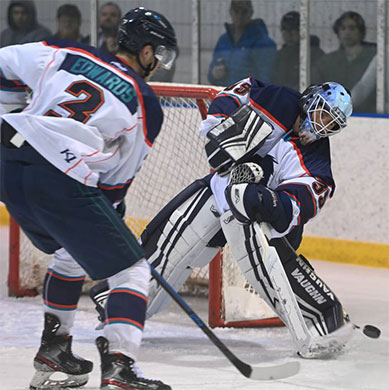 Springfield 1 @ Anchorage 4 – Four different players scored and goalie Raythan Robbins made 24 saves as the Wolverines picked up a 4-1 win on Sunday over Springfield, taking two of three games in their series against the Jr. Blues.
The Wolverines were first on the board as forward Talon Sigurdson scored his league-leading 13th goal of the season to put the home side ahead, 1-0.
After a scoreless 2nd period, the Wolverines hit the gas in the 3rd period, scoring three goals. Joey Moffatt found the back of the net for his 4th goal of the season to make it 2-0. Less than two minutes later, Alexander Babich scored his 5th goal of the season to make it 3-0. The Jr. Blues finally struck for their lone goal of the night as Noah Marino scored his first of the season. Andy Ramsey put the game out of reach late in the 3rd period with a short-handed empty-net goal.
For Robbins, it was his fourth straight win, while Ethan Roberts took the loss, making 32 saves. Skylar Gutierrez had two assists in the win.