Hoyord leads Jackalopes to 5-2 road win on Sunday
October 11, 2021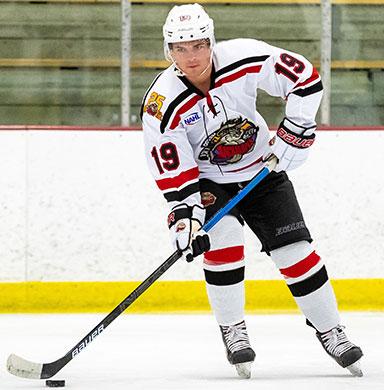 Odessa 5 @ Corpus Christi 2 – Dayne Hoyord recorded a hat-trick to lead the Odessa Jackalopes to a 5-2 road win in Corpus Christi in the lone NAHL game on Sunday.
Hoyord began the scoring midway through the 1st period thanks to a power play goal. The Jacks increased the lead to 2-0 less than two minutes later as Rylan Yates scored his second goal of the season for a two-goal lead. The IceRays cut the lead down to 2-1 late in the period as Daniel Nekhamiyev scored his first career NAHL goal.
In the 2nd period, Hoyord recorded his second goal of the game to make it a 3-1 contest.
In the 3rd period, the IceRays again cut the lead down to a goal as Colby Seitz scored on the power play to make it 3-2. Late in the period, the Jackalopes put the game out of reach thanks to a highlight reel goal from Christopher Duclair to make it 4-2. Hoyord would then complete the hat-trick late in the game with an unassisted goal.
Jackalopes goalie Noah Rupprecht made 23 saves in the win, while Stefan Carney made 27 saves in the loss.