El Paso relishes Hockeyville experience
October 7, 2021
by By Stephen Kerr, usahockey.com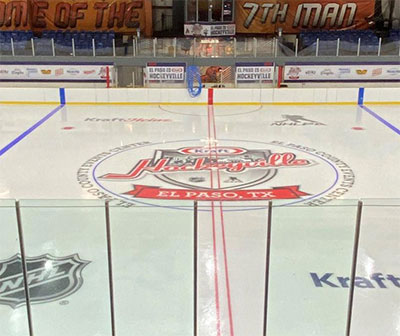 Since Alex Meruelo became majority owner of the Arizona Coyotes in 2019, the team has made a strong commitment to creating hockey awareness among Hispanics and Latinos.
Last year, the Coyotes held a street hockey clinic for kids in the Phoenix area. During Hispanic Heritage Month this season, they visited a local YMCA to run an instructional clinic. Throughout this season the organization will select a Latino Business of the Month to recognize at one home game in each month of the season.
The efforts made by the Coyotes, combined with community outreach from the Dallas Stars organization, all met in the city of El Paso, Texas, a hockey-crazed city that features youth, girls, junior and ACHA USA Hockey teams.
Over the weekend of Oct. 3, the Coyotes and Dallas Stars traveled to El Paso as part of the NHL's preseason schedule. It was the culmination of a week that included a public showing of the Stanley Cup, Learn to Play session, public skates, and the Kraft Hockeyville Game, which the Stars won 6-3. The game was played in front of over 1,000 enthusiastic fans at the El Paso County Events Center, home of the North American Hockey League's Rhinos.
"It was a really fun event," said Tyler Deloach, the Rhinos' director of operations. "It was packed, people were super excited."
Other events were held during the week leading up to the game. The Rhinos visited a local food bank to help with donations. The next day, a Stanley Cup presentation featured NHL alumni and mascots from the Coyotes and Stars. Over the weekend, the teams made stops at a child crisis center, a children's hospital, and the Boys & Girls Club.
A public skate was held with both teams the morning of the game.
"The best part was we were able to give back to the community," Deloach said. "It wasn't just about the Rhinos, it wasn't just about hockey. It was about making sure our community felt a positive impact."
With a population that is over 80 percent Hispanic, El Paso has seen steady growth in its hockey community throughout the years. Prior to the coronavirus pandemic, the Rhinos collaborated with the Dallas Stars for a Learn to Play Mexico session, allowing kids from across the border to participate in a clinic.
The Rhinos NAHL team regularly visit schools and the local Boys & Girls Club. Having junior players that younger kids can look up to has been a big boost to the youth program.
"We're making sure that our players are in the schools constantly and interacting with kids, being good role models," Deloach explained. "That's important to us. Since we've been able to focus on that, we've seen a growth not only in game attendance but in our youth hockey program as well."
Nearly 600 kids are currently enrolled in the Rhinos' program which consists of Learn to Skate, Learn to Play, a six-team house league, and youth and girls teams from 8U through high school. All public schools in the area and the Boys & Girls Club are invited to take field trips to the arena and skate for free.
The Rhinos have also made a commitment to upgrade their local rink. New lighting was installed along with breezeways, renovated bathrooms, and they repaired a leaky roof. The upgrades were completed last November.
Efforts to diversify hockey by NHL teams like the Coyotes and Stars, as well as local organizations like the El Paso Rhinos, are beginning to make a difference across the country, according to USA Hockey's SafeSport Program Manager Don Pino, who was in attendance for the event. A Level 4 certified coach, Pino traveled to El Paso to serve as a volunteer for the Kraft Hockeyville weekend events, helping tie skates and introduce kids to a new sport.
"We are an emerging market," explained Pino, who didn't become involved with hockey until after his son Christian was introduced to the game. "The opportunities are going to start happening because there's somebody at the table willing to help push that initiative."
Pino credits USA Hockey's Director of Diversity and Inclusion Stephanie Jackson with creating awareness among Hispanics and other groups. He says it's imperative teams and individuals reach out to Hispanics, like him, and encourage them to get their kids involved.
"It's a grassroots effort," Pino explained. "That's how I got involved. I think that's how it's going to be with other families. You're going to have to reach out to families and personally invite them, have activities where kids of color will come out."
Deloach points to the atmosphere as a key reason for the Rhinos' strong community support.
"You see the same families over and over, then you see new families," she said. "It's been really cool to watch people grow up through our hockey program."
Pino believes as the number of successful Hispanics increases, the easier it will be for kids of future generations to be exposed to the game. Alongside Pino at the on-ice sessions were former NHL players Al Montoya and Shane Doan, who are significant hockey role models in their respective cities.
The image on ice was a perfect cross-section of NHL heroes, and local volunteers, ensuring that every kid had a fun experience their first time skating, or sometimes shuffling, on ice.
"If I can be involved and grow the Hispanic and Latino portion of our sport, I absolutely want to do that," Pino said. "I'm passionate about that. I want to see a kid who looks like me or my son on a National Team or in college. You have to see it to believe it."