NAHL announces monthly player awards for September
October 5, 2021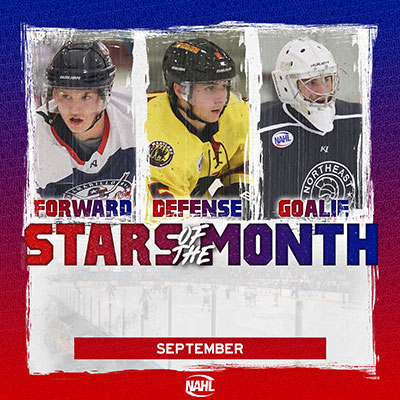 The North American Hockey League (NAHL) has announced its monthly player awards for the month of September. The Forward of the Month is Kristaps Skrastins from the Amarillo Wranglers. The Defenseman of the Month is Luke Van Why from the Maryland Black Bears. The Goaltender of the Month is Carson Limesand from the Northeast Generals. Only players who are nominated by their respective teams are considered for the NAHL monthly awards.
Bauer Hockey NAHL Forward of the Month: Kristaps Skrastins, Amarillo Wranglers
Amarillo Wranglers forward Kristaps Skrastins, 19, had a huge month of September in his first action in the NAHL. The 5'11/180 lbs. native of Riga, Latvia, led the NAHL in scoring during the month with 14 points (9 goals, 5 assists) in six games played. He was honored as the NAHL's South Division Star of the Week in back-to-back weeks and four multi-point games during the month. Skrastins currently leads in the NAHL in scoring with 14 points in eight games played. He is also tied for the goal scoring lead with nine goals. "All the great players find ways to help their team when it matters most. Kristaps' electrifying start to our inaugural season has energized our team and has infused new life into the Amarillo hockey community and fan base. The sky is the limit for this young man," said Wranglers head coach Harry Mahood.
"I think that i owe a lot of my success to my team and ownership. It has been a lot of fun playing for a new organization and being able to put myself and my team on the map early with all of our success, but we certainly are not satisfied yet," said Skrastins. "I want to help myself and my teammates move on to the next level NCAA Division I hockey players. I think this is a great opportunity for all of us and I plan to take full advantage of that this year."
Runner-Up: Ryan O'Neill, St. Cloud Norsemen
Honorable Mention (alphabetical): Tommy Bannister, New Jersey Titans – Ignat Belov, Maine Nordiques – Ethan Benz, Chippewa Steel – Jake Black, Johnstown Tomahawks – Ryan Bottrill, Maryland Black Bears – Ryan Coughlin, North Iowa Bulls – Chris Duclair, Odessa Jackalopes – Lucas Kanta, Minnesota Magicians – Brent Keefer, Northeast Generals – Gramm McCormack, Kenai River Brown Bears – Cade Neilson, Aberdeen Wings – Nicholas Niemo, Lone Star Brahmas – Carson Riddle, Austin Bruins – Ryan Robinson, Wichita Falls Warriors – Connor Smith, Springfield Jr. Blues
Bauer Hockey NAHL Defenseman of the Month: Luke Van Why
Van Why, 18, had a great start to his rookie season playing junior hockey in the NAHL as he recorded 10 points in eight games during the month of September. The 5'10/163 lbs. native of Hatfield, PA, had three goals and seven assists and was a +5 during the month. He had three multi-point games during the month and was named the NAHL's East Division Star of the Week for September 13-19. Van Why currently leads all NAHL defensemen in scoring with 11 points in 10 games played so far during the 2021-22 season. "Luke has had a great start to the season and really taken advantage of the opportunities he's been given. He's a very talented player and has a high motor and competitive level that serves him well. Congrats to Luke on this well-deserved honor," said Black Bears head coach Clint Mylymok.
"I think some of the keys I had to success were mostly based on team factors. The support of my teammates and coaches throughout the month really gave me the confidence I needed to have this type of success. Another key that led to success was hard work and focusing on the game. Day in and day out the team and I have been training hard on and off the ice, focusing on details of our game we can improve on," said Van Why. "I really want to win a Robertson Cup Champions with my team. I also want to become stronger and overall a better hockey player through this year. Beyond playing in the NAHL, I wish to become a NCAA Division I hockey player and work hard in school. After all that is over and done with, I want to live a successful life focused upon having working hard and having fun."
Runner-Up: Greg Japchen, North Iowa Bulls
Honorable Mention (alphabetical): Huge Allais, Aberdeen Wings – Jack Blanchett, Wichita Falls Warriors – James Callahan, Springfield Jr. Blues – Matt Connor, Maine Nordiques – Nolan Cunningham, Fairbanks Ice Dogs - Sam Duerr, St. Cloud Norsemen – Dusty Geregach, Johnstown Tomahawks – Marty Marnauzs, Northeast Generals – Bryson Russell, Amarillo Wranglers – Will Svenddahl, Minnesota Magicians
NAHL Goaltender of the Month: Carson Limesand, Northeast Generals
Northeast Generals rookie goaltender Carson Limesand, 19, had an impressive debut in the month of September. The 6'0/175 lbs. native of Orono, MN, put together a 5-1-0 record in six games during the month, which included being named the NAHL's East Division Star of the Week from September 6-12. Limesand stopped 218 of 232 shots during the month, which was good for a .940 save percentage and 2.13 goals against average during the month. Limesand currenly leads the NAHL in wins, shots faced, saves, and is 6th in save percentage with a .936 mark. "It was a great month for Carson. He came into a tough situation where we were looking to replace two goalies from last year's roster that were on NHL Central Scouting. That's a tough situation with lofty expectations, but our GM Matt Dibble did a great job of identifying Carson as a potential starter, and he has come in and competed from the first day. He has improved greatly with his work ethic and the coaching Steve Mastalerz has given him here. We are really excited about all the NCAA D1 calls we have gotten on Carson and look forward to him continuing to play stellar in net," said Generals head coach Bryan Erikson.
"I really focused on trying take one shot at a time and react strongly to what was happening in front of me. I also have to give a lot of credit to my teammates for playing outstanding in front of me by blocking shots and incepting passes at key moments in the game," said Limesand. "I really hope to prove myself as a goalie this year and work on playing a consistent game every time I hit the ice. I also want to become stronger physically and develop myself for my future. Just like most guys I have dream to one day play at both the NCAA and NHL level."
Runner-Up: Kayden Hargraves, Fairbanks Ice Dogs
Honorable Mention (alphabetical): Simon Bucheler, Shreveport Mudbugs – Cullen DeYoung, North Iowa Bulls – Levi Gho, Chippewa Steel – Hudson Hodges, Austin Bruins - Kyle Kozma, Aberdeen Wings – Matt O'Donnell, Wichita Falls Warriors – Will Proctor, Odessa Jackalopes – Ethan Roberts, Springfield Jr. Blues – Avery Sturtz, Maine Nordiques