NAHL launches anti-bullying campaign in October
October 1, 2021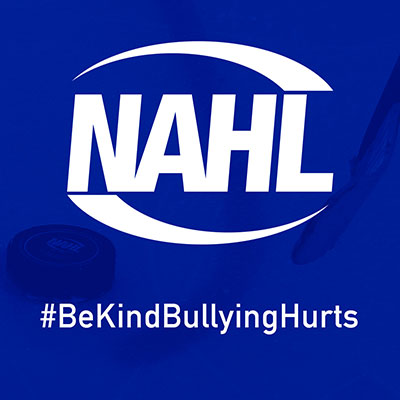 The North American Hockey League (NAHL) and its 29 member clubs are pleased to announce a new league-wide campaign designed for the prevention of bullying.
As a part of National Bullying Prevention Month in October, all 29 NAHL teams are taking part in the effort to bring awareness to the issue of bullying and to communicate and promote a message of acceptance, support, and inclusion with the theme of: 'Be Kind, Bullying Hurts.'
Watch: NAHL Video about Bullying
The 'Be Kind, Bullying Hurts' Campaign kicks off on World Day of Bullying Prevention on Monday, October 4th and will focus on four key messages throughout the month:
Make Friends with someone you don't know at school
Stand up for Others
Sportsmanship - pass it along
Start the conversation with your peers
"Unfortunately, bullying is an issue that affects too many people. In short, it is a violation of our safety and dignity in shared spaces like schools, colleges, and workplaces. Therefore, we as a league felt it was important to develop a program and take initiatives to resolve the problem by creating awareness, understanding the issue better, and inducing safer environments," said NAHL Commissioner and President Mark Frankenfeld. "We believe that through the strength and reach of our 29 member teams and players, we can help students and adults influence positive habits and change in their schools, workplaces, and communities."
Through a series of videos and in-market activities, NAHL member teams and their players will be amplifying the anti-bullying and prevention message meant to engage parents and youth alike.
"Bullying has become a crisis in this country and across the world. It is listed as the number one cause of school absenteeism in the United States and is closely linked to teen depression and suicide. In a Harvard study of high school students, 96% percent reported having been bullied at least once in their lives, 85% percent reported witnessing bullying, and 46% percent indicated that they refused to go to extracurricular activities because the bullies are there. Sadly, two percent of their classmates committed suicide after consistent bullying." -Joan Teach PHD, The Bully Cycle
If you or someone you know is a victim of bullying, you can find help and support at the resources listed below: