October 1, 2021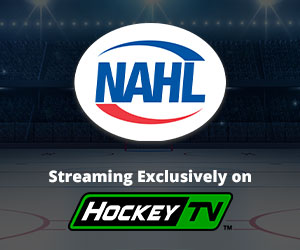 The first full weekend in October takes place as the NAHL continues it's 2021-22 regular season with 24 games on Friday and Saturday.
It was an exciting week for the league, which included three players making NCAA Division I commitments in addition to the upcoming Hockeyville USA NHL game in El Paso on Sunday.
One of the things the NAHL does better than any other junior league is seeing their players earn an NCAA opportunity while playing and being showcased in the NAHL. During the 2020-21 season, a record number of 395 NAHL players made NCAA commitments, with 293 of those (74%) being a record number of NCAA Division I commitments.
In the Central Division, 1st place in on the line this weekend as Austin and North Iowa tangle in a home-and-home series. The Bismarck Bobcats open their home slate still searching for their first win as they face in-state rival Minot in a home-and-home series. In the final series, Aberdeen has their home opener as they take on the red-hot St. Cloud Noresemen.
In the East, the 1st place Northeast Generals look to stay hot as they host the Jamestown Rebels. The Danbury Jr. Hat Tricks return from a week off as they are in Maine to face the Nordiques. The 2nd place Maryland Black Bears are in New Jersey on Friday and Johnstown on Saturday.
In the Midwest, things got started early as the Chippewa Steel beat the Anchorage Wolverines, 4-3 on Thursday. The two clubs play two more times on Friday and Saturday. The Springfield Jr. Blues put their 5-1 record on the line in their home opener against the Minnesota Magicians, while the Minnesota Wilderness look to extend their three-game winning streak as they host the Janesville Jets. Finally, the Fairbanks Ice Dogs return to Alaska to face rival Kenai River in a two-game set.
In the South, the Shreveport Mudbugs will raise their Robertson Cup Champions banner this weekend as they open up their home slate against the Odessa Jackalopes. Meanwhile, the 1st place Amarillo Wranglers are in Wichita Falls to take on the Warriors.
Watch all the action on HockeyTV
Download the all new NAHL App today! (iOS - Google Play)
FRI, OCTOBER 1
Danbury at Maine - 7:00 PM EDT
Jamestown at Northeast - 7:00 PM EDT
Maryland at New Jersey - 7:30 PM EDT
Anchorage at Chippewa - 7:00 PM CDT
MN Magicians at Springfield - 7:05 PM CDT
Amarillo at Wichita Falls - 7:05 PM CDT
Odessa at Shreveport - 7:11 PM CDT
St. Cloud at Aberdeen - 7:15 PM CDT
Minot at Bismarck - 7:15 PM CDT
Janesville at MN Wilderness - 7:15 PM CDT
Austin at North Iowa - 7:30 PM CDT
Kenai River at Fairbanks - 7:30 PM AKDT
SAT, OCTOBER 2
Maryland at Johnstown - 7:00 PM EDT
Danbury at Maine - 7:00 PM EDT
Jamestown at Northeast - 7:00 PM EDT
MN Magicians at Springfield - 6:05 PM CDT
North Iowa at Austin - 7:00 PM CDT
Anchorage at Chippewa - 7:00 PM CDT
Amarillo at Wichita Falls - 7:05 PM CDT
Odessa at Shreveport - 7:11 PM CDT
St. Cloud at Aberdeen - 7:15 PM CDT
Janesville at MN Wilderness - 7:15 PM CDT
Bismarck at Minot - 7:35 PM CDT
Kenai River at Fairbanks - 7:30 PM AKDT