El Paso to host NHL pre-season game on October 3rd
September 16, 2021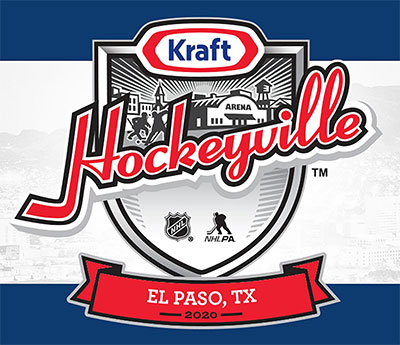 El Paso, Texas, home to the El Paso Rhinos of the NAHL and NA3HL, and winner of Kraft Hockeyville™ USA 2020, will host the Arizona Coyotes and Dallas Stars for an NHL preseason game on Sunday, October 3 at 7 p.m. MT at El Paso County Events Center, Kraft Heinz, the National Hockey League (NHL®) and the National Hockey League Players' Association (NHLPA) announced.
El Paso, which earned its designation as 2020's most-spirited hockey community in America after amassing the most votes in the online Kraft Hockeyville™ USA 2020 contest also won $150,000 in rink upgrades from Kraft Heinz and $10,000 worth of new equipment from the NHLPA Goals & Dreams fund. The game was not hosted in 2020 due to COVID-19.
"We are thrilled to participate in the Kraft Hockeyville game in El Paso," said Arizona Coyotes President & CEO Xavier A. Gutierrez. "We are grateful to the NHL, NHLPA, Kraft Heinz and the Dallas Stars for this incredible opportunity and we look forward to interacting with the El Paso community to grow the great game of hockey in Texas."
"Our organization is proud to represent the great state of Texas in this preseason matchup," said Dallas Stars President and CEO Brad Alberts. "The selection of El Paso is a testament to the hard work of numerous individuals and organizations to help sustain and grow the game of hockey in our state. We are thankful to our partners at the NHL, NHLPA, Kraft Heinz and the Arizona Coyotes for helping make possible this one-of-a-kind game."
Since the start of the 2020 program, El Paso County Events Center and its supporters not only rallied online and voted, but also demonstrated their spirit and pride for their local rink, proving to be the most passionate hockey community in America. Originally built to host rodeos, El Paso County Events Center opened its doors in 1942 and has been a place for the tight-knit community to unite, heal and celebrate all that is good. Despite the isolation imposed by COVID-19, El Pasoans and hockey fans around the world rallied together to help El Paso grow hockey in the desert and become Kraft Hockeyville™ USA 2020. After advancing to the Kraft Hockeyville USA Top 4, El Paso received videos of support from all corners of the world.
Kraft Hockeyville™ launched in Canada in 2006, and has positively impacted more than 80 communities with over $4 million in rink upgrades across Canada and the U.S.
Tickets will be distributed by the El Paso Local Organizing Committee. Please visit the El Paso Rhinos Facebook page for more details. For more information, visit Kraft Hockeyville™ USA 2020 Facebook (KraftHockeyvilleUSA), Twitter (@HockeyvilleUSA), and Instagram (KraftHockeyvilleUSA). Fans can join the conversation using #HockeyvilleUSA.