Generals open NAHL season with 3-1 win
September 9, 2021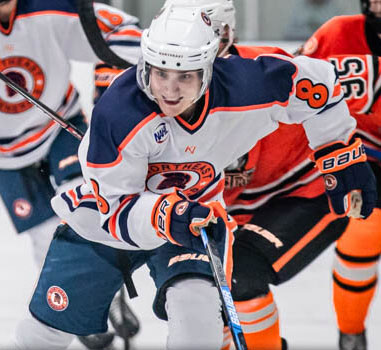 Northeast 3 @ Danbury 1 – The Northeast Generals opened the 2021-22 NAHL regular season with a 3-1 road win in Danbury on Wednesday night. Generals goalie Carson Limesand made 43 saves to win his NAHL debut.
The Generals got off to a fast start in the 1st period with two goals. 3:55 into the game Paul Minnehan scored the first goal of the season as he poked home a loose rebound thanks to a drive to the net by David Andreychuk and more help from CJ Zezima. Six minutes later, the lead increased to 2-0 as defenseman Jackson McCarthy snuck a sharp angle shot in from the far side boards with an assist to Joe Schubert and Marty Marnauzs.
The Jr. Hat Tricks got on the board with their lone goal early in the 2nd period as some good forechecking led to a shot from the point by Jake Howard, which was tipped home in front by Mike Salandra. Later in the period, the Generals regained their two-goal lead as Schubert picked up a loose puck in the slot and wristed home a shot past Danbury goalie Josh Seeley.
Limesand did the rest, making 18 saves in the 3rd period to secure the win. Seeley made 40 saves in the loss for the Jr. Hat Tricks.