NA Now: Northeast Generals
September 2, 2021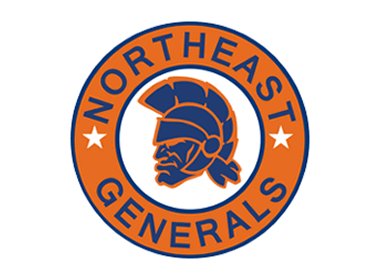 The NA Now series features a look at all teams in the NAHL for the 2021-22 season, with a new team being highlighted daily, leading all the way up until the start of the regular season. NA Now looks into each NAHL team including interviews with all the head coaches in the NAHL, as they provide fans with their expectations and outlook for the season, including taking a look at their strengths as a team and thoughts on the league. It will also take a look back on last season and how each team fared and what they accomplished.
Northeast Generals
Head Coach: Bryan Erikson (6th Season)
2020-21 record: 60 GP, 20-32-8, 48 pts. (6th in the East Division)
2020-21 leading scorer: Jonathan Young (42 points)
2021 Playoffs: Did not qualify
2021-22 Division: East
First regular season game: Wednesday, September 8th vs. Danbury Jr. Hat Tricks
Home opener: Friday, September 24th vs. Johnstown Tomahawks
Through the trials and tribulations of an uncertain season last year, just one team managed to play a full slate of 60 regular season games… the Northeast Generals. While the Generals battled inconsistency and missed out on the playoffs for a second straight season, Head Coach and General Manager Bryan Erikson said he was happy that the organization made a commitment to play and see the season through.
"Obviously, last year presented a lot of challenges, but we decided early on with our ownership group including Bob Penfield and Rich O'Dowd, that we were going to do everything in our power to play as long as we could keep the players safe and healthy. We were the only team in the league to play 60 games, so we were really proud of the fact we kept them healthy and on the ice, and as a result we had another great year of NCAA commitments and helped players realize their dreams," said Erikson.
The Generals knew making the playoffs was going to be tough after they were away from their home at the New England Sports Village from November 5th to March 26th. "I think we knew about halfway through last season that making the playoffs was going to be tough, so we really focused hard on getting our guys committed. We didn't have the results we wanted. We played 42 of 60 games on the road, which is tough, but I also think I didn't do a good enough job coaching. I think I focused on too many things outside of hockey, which sacrificed what was taking place on the ice, but I am proud of our guys, and we are hoping that some of the things we learned about ourselves, and an organization can translate into success this year," said Erikson.
Watch: Northeast Generals season preview
As for 2021-22, the Generals are going to be loaded with talent, many of whom are returning players. "I think in December of last year we knew that heading into this season, defense was going to be our #1 priority. We had two really solid goalies last year, but we weren't strong enough in front of them. We went into this year focused on bringing in some higher-end defensemen," said Erikson. "I think with the work that our General Manager Matt Dibble has done, we have significantly improved in that area and feel like it's a step in the right direction."
St. Lawrence commit and forward David Andreychuk (24 points) and forward Matt Boczar (12 points) will serve as co-captains this season. Defenseman Adam Smith (13 points) and forward and Arizona State commit Paul Minnehan (20 points) will serve as assistant captains. Other key veteran players back include forwards Brent Keefer (25 points) and Kyle Schroeder (15 points), along with defenseman Jackson McCarthy. "We were fortunate that many of our players from last season wanted to return. Our expectations are high for all of them, but it's a great opportunity because they are going to be put in a position to lead and succeed," said Erikson.
The Generals also lost their Top 5 scorers from last year, so it was important for them to try and replace that production. One of the new faces with experience is Swedish forward Sixten Jennersjo, who is committed to play NCAA Division I hockey for Long Island University. The Generals also found some NAHL experience with forward and Air Force commit Joe Schubert, who spent the 2020-21 season in the NAHL with Odessa and New Jersey. The Generals also picked up 17-year-old forward and Lake Superior State commit Zachary Cline.
The Generals did lose both goalies from last season in Hugo Haas and Anton Castro. The two in camp now who are looking to make their own marks in the NAHL are Carson Limesand and Cameron Kuntar. Neither comes with any junior experience as Limesand played high school hockey in Minnesota, while Kuntar played 18U AAA hockey. "We've been at camp for 13 days now and we are excited with the progression of the players and team chemistry, so we have a lot of optimism heading into our season opener on September 8th," said Erikson. "I think everyone would like to win a Robertson Cup, but our #1 goal here is to produce NCAA Division I players who are going to make an impact at the next level. We hope it translates into winning. Our goal is to break the season down in six different 10-game blocks and make sure we have a better record in each block as we progress throughout the season."
Next up: Odessa Jackalopes