August 29, 2021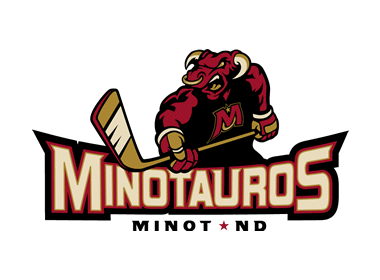 The NA Now series features a look at all teams in the NAHL for the 2021-22 season, with a new team being highlighted daily, leading all the way up until the start of the regular season. NA Now looks into each NAHL team including interviews with all the head coaches in the NAHL, as they provide fans with their expectations and outlook for the season, including taking a look at their strengths as a team and thoughts on the league. It will also take a look back on last season and how each team fared and what they accomplished.
Minot Minotauros
Head Coach: Shane Wagner (2nd Season)
2020-21 record: 56 GP, 23-25-8, 54 pts. (4th in the Central Division)
2020-21 leading scorer: Cade Stibbe (32 points)
2021 Playoffs: Lost in the Central Division Semi-Finals to Aberdeen, 3 games to 2
2021-22 Division: Central
First regular season game: Wednesday, September 15th vs. Lone Star Brahmas
Home opener: Saturday, October 2nd vs. Bismarck Bobcats
Under first-year Head Coach Shane Wagner, the Minot MInotauros began their quest to get back to the Robertson Cup, where they last had been in 2018. The team got off to a hot start, with a 4-0-2 record in the month of October. However, the momentum slowed with a month long break until late November, and then the Minotauros would find themselves in the midst of a playoff race for the remainder of the regular season.
The Minotauros clinched the 4th and final playoff spot during the final game of the regular season and had the tall task of trying to knock off the Aberdeen Wings, who had just set an NAHL single-season record with 51 wins and 103 points. In the Division Semi-Final, the MInotauros played inspired hockey and after going down 0-2, managed to win the next two games in Minot to force a Game 5. In the deciding game, the Wings pulled out a 4-3 win in overtime to advance, but the Minotauros season ended with head held high.
"We were fighting so hard to get a playoff spot at the end of the regular season, and when we finally clinched I think the team took a huge sigh of relief and really went into the playoffs with nothing to lose. Our guys worked their tails off so when we had to go up against Aberdeen I think they had the right attitude," said Minot head coach Shane Wagner. "I think that really helped us in the series and I was proud of the way we played. The guys bought in and believed we could win and we got some great goaltending and pushed them to the point where one shot would have won the series for us. I could not have asked for more from our group."
Watch: Minot Mintauros season preview
Wagner heads into Year 2 of his tenure behind the bench with a good knowledge of what will make Minot successful during the upcoming 2021-22 season. "I think I learned to trust my own instincts more often. As a first-year head coach, there is a lot of advice and ideas coming from colleagues and you are trying to absorb as much information as possible. I think we made the most progress as a team when I was able to assess each situation and make decisions based upon my own experiences and react on instinct. Towards the end of the season, that's what I was focused on and I think we had more success that way," said Wagner.
As for what the Minotauros will look like in 2021-22, they will have some returning pieces of the puzzle. While starting goalie Keenan Rancier aged out and is off to play NCAA Division I hockey this year at Minnesota State, the Minotauros do return goalie 19-year-old netminder Carter Clafton, who appeared in 12 games last season. "I think Carter learned a lot from a veteran goalie like Keenan so I think that sets him up for a big year this season. He didn't get a ton of ice last year, but he picked up some valuable knowledge in practice and just being around Keenan last year," said Wagner. "I think heading into this season, we were looking for guys at every position who have a lot of character and players you can build a championship around who are going to buy into a plan. We were just trying to fill in some holes of the guys who aged out," said Wagner.
Up front, the Minotauros added veteran NAHL forward Huston Karpman, The 20-year-old NAPHL grad played between the NAHL (Amarillo) and USHL last season, and also won a Robertson Cup with Aberdeen in 2019. Logan Anderson returns after scoring 18 points in 35 games played last season. "I think it could be a breakout season for Logan. He was huge in the playoffs last year, and we are expecting him to take that next step this year," said Wagner. Other returning forwards include Trevor Stachowiak (7 points) and saac Keller (5 points). On defense, Air Force recruit Cole Mickel returns for his second junior season after putting up 19 points in 46 games played as a rookie last season. "Cole made huge gains as a rookie last year and he will be a guy that we rely on heavily for leadership and production this season," said Wagner.
"We have to start the season with some consistency. We had a couple times last year where we stumbled and it took us some time to get out of it. I want that to change this season where we don't have those extended periods of being in some sort of slump. We need to focus on each weekend and not focus on what's ahead or what's behind us. As for more long-term goals, we want to win the Division and go to the Robertson Cup. I think North Iowa is going to be a heck of an addition and I think everyone else is going to be really good as well, so it's not going to be easy. We cannot underestimate anyone. We just have to make sure we are ready to play our game and control what we can control," said Wagner.
Next up: New Jersey Titans