August 25, 2021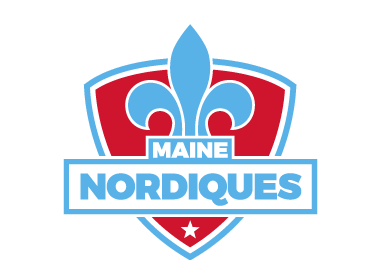 The NA Now series features a look at all teams in the NAHL for the 2021-22 season, with a new team being highlighted daily, leading all the way up until the start of the regular season. NA Now looks into each NAHL team including interviews with all the head coaches in the NAHL, as they provide fans with their expectations and outlook for the season, including taking a look at their strengths as a team and thoughts on the league. It will also take a look back on last season and how each team fared and what they accomplished.
Maine Nordiques
Head Coach: Nolan Howe (3rd Season)
2020-21 record: 56 GP, 35-19-2, 72 pts. (2nd in the East Division)
2020-21 leading scorer: Stefan Owens (51 points)
2021 Playoffs: Lost in the Robertson Cup Semi-Finals to the Shreveport Mudbugs, 2 games to 0
2021-22 Division: East
First regular season game: Wednesday, September 15th vs. Fairbanks Ice Dogs
Home opener: Friday, October 1st vs. Danbury Jr. Hat Tricks
It was a season to remember for the Maine Nordiques in 2020-21. Nolan Howe's team was armed with a veteran group of players, who were coming off a difficult and shortened expansion season the year prior. The goal for the Nordiques was simple, which was to take the next step and become a playoff contender in Year 2.
That's exactly what the Nordiques did, as they won 35 games and finished in 2nd place in the East Division, and in the process were able to develop several standout players who would eventually make up an impressive list of 13 NCAA commitments during the season, including eight Division 1 commitments. The Nordiques were a team on a mission in the playoffs, as they battled through a tough five-game series against New Jersey, followed by a sweep of the Maryland Black Bears in the East Division Finals to advance to the Robertson Cup. The magic would end in Blaine at the hands of the eventual champion, the Shreveport Mudbugs, as the South Champs swept the Nordiques in two games to end their season.
Regardless of the loss, Howe said that he was very pleased with the outcome of the entire season, given all of the challenges and circumstances the team had to face. "All the credit in the world goes to the league, the owners, the coaches, and the players. I think the way the players adapted and responded is to be commended. It was a season unlike any other, but I know we were all grateful to take part in it," said Howe. "We had a great ride in the playoffs. We had a couple great series with New Jersey and Maryland and it really solidified what playoff hockey is all about. We had a great experience at the Robertson Cup and learned a lot. I was proud of the way we played against Shreveport, but they were certainly worthy of winning the Championship, so hats off to them. Our guys really came together and bought in and had a fun experience. It was an honor to represent the East Division and we had a fantastic time despite not winning the whole thing.
Howe said that the Robertson Cup was not only good because of the experience in playing for the NAHL's top prize, but also because of what it will ultimately take to win. "We learned that it's hard to win in the NAHL. The East Division is so competitive top to bottom, so after you go through the gauntlet of winning a divisional playoff championship, then you have to face-off against a team a few days later that has done the same in another division. Shreveport plays such a hard-nosed and physical style of game. They are well coached and well structured. I think we learned that at that point of the season, physical and mental toughness are at a premium, as is being a high-caliber player. At that point in the season, it is really about survival and focus and letting your skill and talent take over. We look forward to taking another crack at it in 2021-22," said Howe.
Watch: Maine Nordiques season preview
The Nordiques did lose a good chunk of players from their team last season, including their top three scorers and the majority of their defensemen. "We tried to recruit good character people and guys that can think the game well and are highly competitive. We had to replace quite a bit of our defensive corps, but we have a really strong group of forwards and a starting goalie coming back," said Howe.
A big piece to the puzzle will be goaltender Avery Sturtz, who returns for a third NAHL season with the Nordiques. Last season, the 6'3/190 lbs. native of Cedar Rapids, IA, split time with Tyriq Outen. Sturtz posted a 12-9-1 record in 24 games played, which included a 2.75 goals against average and a .906 save percentage.
Other returning players include University of Maine recruit Tyler Gaulin returns after posting 35 points in 55 games played during his rookie campaign. Other returning forwards include: Aidan Connolly (27 points), Tristan Fasig (26 points), Reese Farrell (18 points), Caden Pattison (14 points), Ignat Belov (8 points). Along the blueline, the Nordiques return Matt Connor (7 points) and Kadsen Johnson.
"We have a highly-competitive schedule in Blaine at the Showcase, so we are looking forward to it. Once we get back and start playing teams in the East Division, we have a focus on getting better every day," said Howe.
Next up: Maryland Black Bears