NA Now: Johnstown Tomahawks
August 22, 2021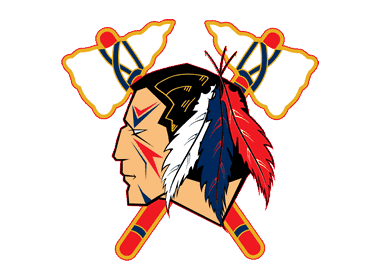 The NA Now series features a look at all teams in the NAHL for the 2021-22 season, with a new team being highlighted daily, leading all the way up until the start of the regular season. NA Now looks into each NAHL team including interviews with all the head coaches in the NAHL, as they provide fans with their expectations and outlook for the season, including taking a look at their strengths as a team and thoughts on the league. It will also take a look back on last season and how each team fared and what they accomplished.
Johnstown Tomahawks
Head Coach: Mike Letizia (7th Year)
2020-21 record: 54 GP, 39-10-5, 83 pts. (1st in the East Division)
2020-21 leading scorer: Jay Ahearn (62 points)
2021 Playoffs: Lost in the East Division Semi-Finals to the Maryland Black Bears, 3 games to 2
2021-22 Division: East
First regular season game: Wednesday, September 15th vs. Aberdeen Wings
Home opener: Saturday, October 2nd vs. Maryland Black Bears
The 2020-21 season saw the Johnstown Tomahawks successfully navigate the East Division landscape with a veteran group to produce a team that rivaled that of the record-breaking performance going on in Aberdeen. While the Wings easily led the way in categories like wins, points, goals for and goals against, the Tomahawks were right behind in 2nd place in many of the categories as they won the East Division by 11 points during the regular season. Tomahawks forward Jay Ahearn also earned NAHL Rookie of Year honors.
However, it was not meant to be in the Robertson Cup Playoffs as the Tomahawks were upset in the East Division Semi-Finals by the Maryland Black Bears, 3 games to 2, which ended one of the more successful seasons in Tomahawks history. "The playoffs were disappointing and obviously we didn't come through like we would have wanted to, but I don't think it diminishes some of the accomplishments that were made. We had a lot of guys make NCAA commitments and that's obviously very important for us," said Head Coach Mike Letizia, who will enter his 7th season behind the bench in 2021-22. "We were fortunate to have a complete season and the ownership groups of the NAHL really took a big risk in order for us to play, so we were grateful to be playing and have the opportunity to compete and keep these guys developing. It was pretty rewarding to see our team respond right away and see them maintain that success throughout the entire season. We are very happy to win the division because I thought it was competitive throughout from top to bottom."
Watch: Johnstown Tomahawks season preview
The 2021-22 Tomahawks roster will be almost entirely new with only four returning players. "Heading into this year, we needed a little bit of everything. We had a lot of our main guys move onto the NCAA. We only have two returning forwards, one returning defenseman and one goalie from last year's team, so we are going to have almost an entirely new roster," said Letizia. "Right off the bat, we are going to have to elevate how hard we play and play with a little more grit. I felt we got a little too fancy at times last year. I think when you look at a team like Shreveport, who won the Robertson Cup last season, they play heavy and hard and at that time of year, I think that's what it takes to win hockey games and have success in the playoffs."
One of the key returners will be in goal with Top Prospects goaltender Sam Evola. The 6'0/170 lbs. native of Rochester, MI, appeared in 27 games last year as a rookie and posted an 18-6-2 record with a 2.18 goals against average, which ranked tied for 4th in the NAHL, and a .924 save percentage, which ranked 5th. "We are hoping that Sam really takes the next step in his development. We thought he made some big strides last year during this rookie season. I think having the experience of playing in the playoffs and in the Top Prospects Tournament will be very beneficial in the way he performs this season," said Letizia.
Up front, the Tomahawks two returners are Holt Oliphant and TJ Koufis. Oliphant had a very good rookie season with 31 points (12 goals, 19 assists) in 53 games played. Koufis, who is a University of Wisconsin commit, had seven points in 24 games played with the Tomahawks during the second half of the season. He began the year with the Lone Star Brahmas, playing in 12 games. On defense, the lone returner is Dusty Geregach, who played in the 2021 NAHL Top Prospects Tournament, and recorded 17 points in 49 games played last season. "Holt is one of the hardest workers we've had in Johnstown. He will run through a wall for his teammates, so he leads by example. Dusty had an outstanding rookie season and I think has the potential to be one of the top defenseman in the Division," said Letizia.
"We got a taste of the Robertson Cup in 2019. I think we felt we had a legit chance to win it, but it's hard. A lot of things have to go right and you have to have a little bit of luck. With a new team like we are going to have, guys must buy in from Day 1, but it is going to take a little bit of time. We have two goals here and that's to advance players onto the NCAA and to win hockey games and they go hand in hand. Hockey is the ultimate team sport so the sooner our guys are able to gel as a team and set a foundation, the more success we are going to have. I am excited for it because I think it is going to be a special group," said Letizia.
Next up: Kenai River Brown Bears