August 21, 2021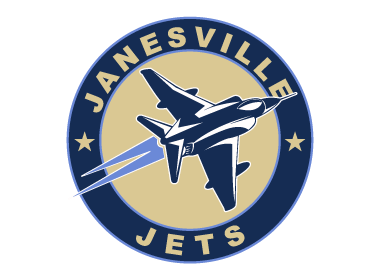 The NA Now series features a look at all teams in the NAHL for the 2021-22 season, with a new team being highlighted daily, leading all the way up until the start of the regular season. NA Now looks into each NAHL team including interviews with all the head coaches in the NAHL, as they provide fans with their expectations and outlook for the season, including taking a look at their strengths as a team and thoughts on the league. It will also take a look back on last season and how each team fared and what they accomplished.
Janesville Jets
Head Coach: Parker Burgess (2nd Season)
2020-21 record: 48 GP, 31-13-4, 66 pts. (1st in the Midwest Division)
2020-21 leading scorer: Charlie Schoen, Cade Destefani (45 points)
2021 Playoffs: Lost in the Midwest Semi-Finals to the Kenai River Brown Bears, 3 games to 1
2021-22 Division: Midwest
First regular season game: Friday, September 10th vs. Springfield Jr. Blues
Home opener: Friday, September 10th vs. Springfield Jr. Blues
Under first year head coach Parker Burgess, the Janesville Jets thrived and survived during a difficult season of stops and starts, which ultimately saw the team capture the Midwest Division regular season crown for the first time since the 2016-17 season.
The Jets, who had another impressive season of NCAA advancement with 17 players ending the season with an NCAA commitment, including 14 NCAA Division I commitments, had their eyes set on a return to the Robertson Cup for the first time since 2017. In the Midwest Division Semi-Finals, the Jets were stunned in the opening two games in Janesville, falling down 0-2 to the #4-ranked Kenai River Brown Bears. After winning Game 3 to make it a 2-1 series, the momentum seems to be going the Jets way. However, the resilient Brown Bears won Game 4 to end the Jets season and advance to the Midwest Finals.
Despite the loss, Jets head coach Parker Burgess said that last year is one he will remember for a long time and one that was a very positive learning experience. "I didn't have any idea what a normal NAHL season consisted of having never coached in the league before, so maybe it was a good thing for us to go through so much adversity last season. I think it actually played into our favor. I think the way the team maintained focus and responded was admirable," said Burgess.
"It was a really enjoyable and memorable year. It was my first time coaching junior hockey and I think it renewed my passion for the sport. We have such a great leadership group with Bill McCoshen and Joe Dibble that kept us moving forward during the year. We were fortunate enough to have a successful season on the ice and keep the guys playing. A lot of memories were made, but the way everyone responded to the challenges we were faced with, made me really proud to be coaching this team and excited for the future," said Burgess.
Watch: Janesville Jets season preview
The Jets will enter the 2021-22 season following much of the same philosophy and mantra that the organization has established and made them successful in the NAHL. They will again focus on mixing some younger talent with some veteran players with the experience with advancement as the goal. "Our #1 goal is advancement. We know we are losing some good players, which included both of our goalies, so that was a big need of ours," said Burgess. "I think we also had to reload up front because we are losing some big pieces and some guys who were key to great season of offense for us."
The Jets do return five defensemen from last year's group, which gave up a division-low 144 goals in 48 games played last season. "It's a really good starting point for us. It is really hard to find an experience and solid defensive corps heading into a season and we have one this year. I think all five guys enter the season with NCAA Division I commitment potential," said Burgess. Some of those key pieces along the blue line include Top Prospects defenseman Cal Mell (10 points in 34 games last season). AJ Casperson (7 points) also returns, as do Spencer Kring (12 points), Will Troutwine (12 points), and Gunnar Williams (2 points).
Up front, the Jets get back Wisconsin commit Robby Newton (18 points), Mack Keryluk (7 points), and Jake Sacratini (6 points). "I think all three can take the next step as they were mainly role players last year, but will be looked upon to be production players this season," said Burgess. The Jets will also have some familiar faces from the 2019-20 team as Arsenii Smekhnov comes back to the NAHL to play after playing NCAA hockey at Long Island last season. Jan Lasak also returns after playing last season in Finland.
"I don't think we have any concrete expectations or goals at this point. "We want the guys to buy in to what we are building here and we want players who are invested in their own development and who want to get better every single day. Hopefully we can build off last year, have some commitment success, win some games, and put ourselves in position to be successful in the playoffs this season," said Burgess.
Next up: Johnstown Tomahawks