NA Now: Danbury Jr. Hat Tricks
August 17, 2021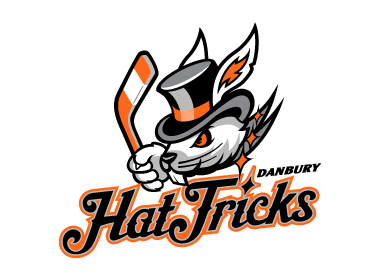 The NA Now series features a look at all teams in the NAHL for the 2021-22 season, with a new team being highlighted daily, leading all the way up until the start of the regular season. NA Now looks into each NAHL team including interviews with all the head coaches in the NAHL, as they provide fans with their expectations and outlook for the season, including taking a look at their strengths as a team and thoughts on the league. It will also take a look back on last season and how each team fared and what they accomplished.
Danbury Jr. Hat Tricks
Head Coach: Billy McCreary (2nd Season)
2020-21 record: 54 GP, 20-27-7, 47 pts. (5th in the East Division)
2020-21 leading scorer: Valentino Passarelli (35 points)
2021 Playoffs: Did not qualify
2021-22 Division: East
First regular season game: Wednesday, September 8th vs. Northeast Generals
Home opener: Wednesday, September 8th vs. Northeast Generals
Year 1 for the Danbury Jr. Hat Tricks was a learning experience under tough circumstances. First-year head coach Billy McCreary, who in an NAHL grad himself, had the team off to a good start last season with a 5-1 start through October and into early November. However, because of the circumstances surrounding last season, the Jr. Hat Tricks would not play a regular season game again until mid-January.
The break took its toll on the club as they fell behind in the standings and were scrambling to play catch up the remainder of the season. Down the stretch, the final playoff spot became a three-way race between Maryland, Northeast, and Danbury, with the Black Bears ultimately winning out.
"It was a big-time growth year for us and it was tough because of the Covid situation, but we won't let that be an excuse for not making the playoffs, which was a goal of ours. It did offer us an accelerated learning curve with all the challenges that we were dealt. We learned that the details matter and there are certain intricacies of the NAHL that you have to pay attention to if you want to have success," said McCreary.
Danbury enters their second season in the NAHL with some turnover on their roster, but have the necessary experience and building blocks to make an impact in Year 2 in what will now be a seven-team East Division thanks to the return of the Jamestown Rebels.
Watch: Danbury Jr. Hat Tricks season preview
"The East Division is a battle every night and there are no nights off. It is strong top to bottom. I think as long as you make the playoffs you have a good of a chance to win as the #4 seed as you do as the #1 seed and we saw that with Maryland last season," said McCreary. "I think adding Jamestown back in the mix is going to make the division even tougher with the recent playoff success they had back in 2016 and 2017. Our first goal is the make the playoffs and our second goal is to raise the Robertson Cup in 2021-22."
In the off-season, the Jr. Hat Tricks had some building to do as the team's top five scorers are all off to the NCAA. Overall, the team had 16 players during the 2020-21 season make an NCAA commitment, which helped contribute to another single-season record for the NAHL.
"We wanted to identify our core group who could play a 200-foot style of game. We wanted to build from the net out, so that mean solidifying our goaltending first, then our defense, and then the players up front. We must be fast and difficult to play against. I want our guys to be tenacious. We need be a team that plays a little bit more of a Danbury blue collar type of hockey," said McCreary.
The Jr. Hat Tricks do return some key pieces to the mix for the 2021-22 roster. In goal the team returns 20-year-old netminder Josh Seeley. The Michigan native was one of only four goalies last season to win the NAHL Goaltender of the Month Award as he captured in honor for February. Overall, Seeley appeared in 20 games during the 2020-21 season, posted an 8-8-3 record with 3.43 goals against average and a .907 save percentage. "We are going to lean heavily on Josh to be a leader on the ice and a leader in the lockerroom. He's got some fire to him and an old school kind of mentality to him, so he's not afraid to go to battle for his teammates," said McCreary.
Hunter McCurdy returns on the blueline and is a player who likes to play in all situations and can log big minutes. Up front Gabe Dombrowski, who played in the 2021 NAHL Top Prospects Tournament, returns after scoring 25 points (12 goals, 13 assists) in 45 games played last season.
"Hunter and Gabe will be good leaders for us. They want to be on the ice when the game is on the line, so I like that kind of leadership and dedication. They aren't afraid to make plays," said McCreary.
Next up: El Paso Rhinos