Wranglers name Zirnis as Director of Player Personnel
July 22, 2021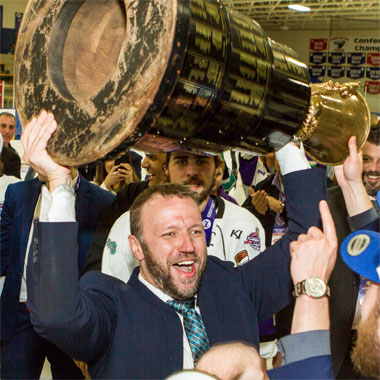 The Amarillo Wranglers have named Karlis Zirnis as the team's first Director of Player Personnel.
As the Wranglers prepare for their inaugural season, head coach Harry Mahood knows how important it is to have the right staff around to build a roster from scratch.
"Building a roster in the North American Hockey League is a very complex process that requires a vast variety of relationships and a keen eye for hockey talent," Mahood said. "Karlis and I have blended our skills together to optimize the roster construction process in a compressed period of time."
Zirnis was born in Riga, Latvia, and has an expansive hockey resume both on the ice and behind the bench at multiple levels of the sport. The Latvian native played college hockey for the Alabama–Huntsville Chargers from 1999-2003. Zirnis would go on to play in the Central Hockey League including a stint with the Amarillo Gorillas. He finished his playing career with the Huntsville Havoc of the SPHL in 2010.
"Karlis has an impressive International hockey resume and understands the type of players needed to be successful in the North American Hockey League," Mahood said. "I know Karlis will work tirelessly on behalf of the organization to build the very best team possible each season."
Following his playing career, Zirnis was named an assistant coach for the Latvian national team for the 2013 IIHF World Championship and also coached in the 2014 Olympics. Zirnis spent three seasons as a coach in the NA3HL before being named the head coach for the expansion Shreveport Mudbugs of the NAHL in 2016. He would lead Shreveport to a Robertson Cup title in the 2018 season.
Zirnis returns to the NAHL following assistant coaching roles at the University of Alaska Fairbanks and Alabama–Huntsville.
"I look forward to working with Karlis to put the very best team on the ice for our fans and city…His time in college hockey will be a very valuable asset to the entire organization," Mahood said.
This will be Zirnis' third time in Amarillo after being a scout for the Amarillo Bulls from 2010-2012 and playing for the Gorillas in 2002-03.