NAHL announces results of 2021 Entry Draft
July 15, 2021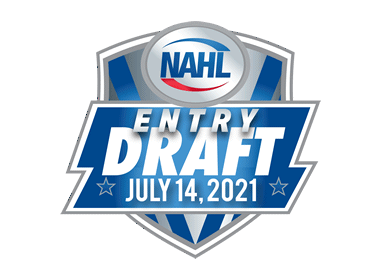 The 2021 NAHL Draft was held and completed on Wednesday, July 14th and the NAHL is pleased to announce the results.
In total, 241 players were selected in the draft, which took just under four hours to complete.
View the results of the 2021 NAHL Draft at nahldraft.com
Click here to watch an archive of the draft through HockeyTV
"The NAHL Draft is such an exciting day for our teams, their fans, and hundreds of prospective players. It is a very important part of the chemistry of building a team and identifying players that are going to be a part of a team's future. One of the things that is great about the Draft is the progression of a player's development that coaches have now been able to see throughout the year. They have been able to work with their scouting departments and identify players that have sparked their interest throughout the season, through one of many pre-draft camps, or an NAHL Combine," said NAHL Commissioner and President Mark Frankenfeld. "We offer our congratulations to the players selected in today's NAHL Draft. This is the start of an incredible journey to play in the NCAA and we wish the best of luck to all the players, veterans, tendered, drafted or not, in your quest to play USA Hockey in the NAHL."
The expansion El Paso Rhinos had the first overall pick in the Draft and selected forward Jordan Zelenak from Buffalo High School in Minnesota. The other expansion team, the Anchorage Wolverines, also went the Minnesota route with the second overall pick, selecting forward Tyler Braccini.
The first defenseman selected was with the third pick overall as the Amarillo Wranglers selected Logan Rawlyk from Saskatoon, Saskatchewan.
The first goaltender selected was Bryant Marks, who was selected 14th overall by the Kenai River Brown Bears in the first round. Marks, 17, who is also an Alaska native, played for the Fox Motors 16U team this past season.
Breakdown of positions drafted:
Forwards: 136 (56%)
Defense: 84 (35%)
Goalies: 21 (9%)
Breakdown of teams/levels/leagues where players were selected from:
18U: 44
Other Junior: 36
High School: 29
Canadian Junior: 29
16U: 27
Prep School: 25
NA3HL: 21
European Junior: 10
NAHL: 10
USHL: 9
15U: 1
Birth year breakdown:
2001: 46
2002: 86
2003: 73
2004: 34
2005: 2
Players not drafted or tendered by NAHL teams are still able to participate in each team's respective open tryout camps. Remaining tryout camps are listed here.
Each team's protected list now stands at 28 players.