Cooper and Maroon team up again for another Championship
July 8, 2021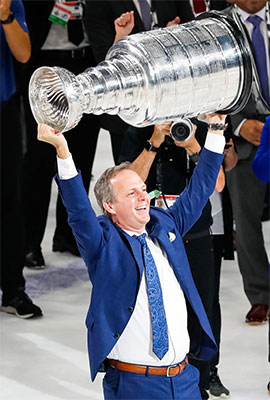 The former NAHL duo of Jon Cooper and Pat Maroon have again captured the Stanley Cup as the Tampa Bay Lightning went back-to-back winning the Stanley Cup for the second straight season with a 1-0 victory against the Montreal Canadiens in Game 5 of the Final at Amalie Arena on Wednesday.
Cooper became just the third Head Coach in the expansion era to win multiple Stanley Cups with their first NHL team, joining Glen Sather (4) and Fred Shero (2).
"Just a special, special, special group," Cooper told The Athletic. "And, who knows, I guess we'll see if we can threepeat. You start getting the taste of it and you want more. It's like an addiction. We've got a group that believes in how to play and what you need to shut a game down. There's a plan in place, but guys have to execute it. They work so damn hard and they sacrifice. When you have that mentality and everyone puts the team first, good things — magical things — happen."
Cooper began his NAHL coaching career with the Texarkana Bandits in the 2003-04 season. He coached in the NAHL a total of five seasons with Texarkana and St. Louis, totaling 290 regular season games, which is second only to his time served coaching in the NHL. In 2004-05 and again in 2007-08, he was honored as the NAHL Coach of the Year. Cooper led the Bandits to back-to-back Robertson Cup Championships in 2007 and again in 2008.
Maroon is the first player to win the Cup in three consecutive seasons since 16 New York Islanders won it four straight times from 1980-83, including Mike Bossy, Clark Gillies, Denis Potvin, Billy Smith and Bryan Trottier. Maroon won the Cup with the St. Louis Blues in 2019 and with the Lightning the past two seasons.
Maroon is also the first player to win the Stanley Cup three straight seasons with different teams since Ed Litzenberger won four straight from 1960-64 with the Chicago Black Hawks (one) and Toronto Maple Leafs (three). Last season, Maroon joined Cory Stillman and Claude Lemieux as the only players to win the Cup with different teams in consecutive seasons in the expansion era (since 1967-68).
"This one was special," Maroon said. "It's hard to win, and I was blessed to be a part of good teams and get on a roll. It's hard to go back-to-back, and to be a part of the group, that's so special. It's just amazing. I was glad my family got to come around the second time around and party with us."
"I guess you could put me in some good company. I'm truly blessed, like I said. I love the game of hockey. I work my tail off every single day, and sometimes you get to play on good teams where you have to play a good role, and I came to Tampa and felt like we had a chance to win. It takes a lot to win one, but it takes a lot more to win two," continued Maroon.
Maroon played for Coach Cooper in the NAHL during the 2005-06 and 2006-07 seasons. During his first NAHL season in Texarkana, Maroon recorded 60 points in 57 games and was named to the NAHL's All-Rookie Team. The Bandits moved to St. Louis the following year, when they won the first of back-to-back Robertson Cup National Championship titles. Their first of those titles came in 2007 when the Bandits defeated the Mahoning Valley Phantoms 8-4 on May 6, 2007 in Fairbanks, Alaska. Maroon, who was the league's MVP that season with 95 points in 57 games played, recorded an astounding 23 points in just 12 playoff games on the way to the title, which included a hat-trick and an assist in the Championship game. Maroon's 23 points still stands as the NAHL record for most points in a single post-season.
"Guys are stars in different ways, and you can't sit here and judge a guy because if he doesn't get 100 points, he's not a star player," Cooper said. "There's guys that are stars in the room. There's guys that are stars on the bench, and when you get to the situation we are in and Montreal is in, guys pitch in in different ways. 'Patty,' guys gravitate to him. He's always saying the right things when it's needed, and he's got swag to him. So he's a star in our book."
A St. Louis native, Maroon signed a one-year contract with the Blues on July 10, 2018. That season, he scored seven points (three goals, four assists) in 26 Stanley Cup Playoff games to help St. Louis defeat the Boston Bruins in seven games for the championship.
Maroon then signed a one-year contract with the Lightning Aug. 24, 2019, and scored six points (one goal, five assists) in 25 postseason games, helping them defeat the Dallas Stars in six games in the 2020 Cup Final. He signed a two-year contract to remain with Tampa Bay on Oct. 29 and scored four points (two goals, two assists) in 23 games this postseason, including his first Stanley Cup Final goal in Game 4.
"I was kind of getting emotional there with like 1:40 left," Maroon said. "I had to keep it together because obviously I'm not out there. But watching these guys block shots and just muck it up and do everything they can just to [have] an opportunity to win, I've been very fortunate. I'm very blessed to be a part of three runs and three very good teams. You may not see me on the score sheet, but I try to bring a different element to the room and chip in when I can and just kind of relax the team a little bit."