NAHL mourns the loss of former goaltender Kivlenieks
July 6, 2021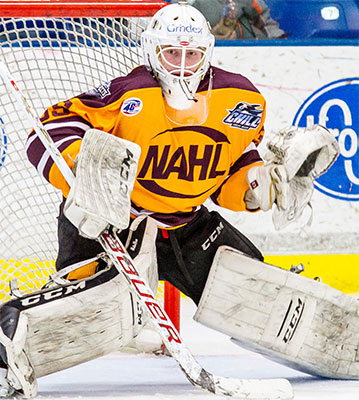 It is with sincere regret and profound sadness that the NAHL mourns the passing of former goaltender Matiss Kivlenieks.
Kivlenieks died of chest trauma from an errant fireworks mortar blast in what authorities described Monday as a tragic accident at a Michigan home on the Fourth of July.
Police in Novi, Michigan, said the firework tilted slightly and started to fire toward people nearby Sunday night. The 24-year-old Kivlenieks was in a hot tub and tried to get clear with several other people. Authorities earlier said the Latvian had died of an apparent head injury during a fall, but an autopsy clarified the cause of death.
The 6-2, 178-pound netminder was originally signed to an entry level contract by Columbus on May 25, 2017. After two years of playing Tier III junior hockey, Kivlenieks turned some heads and earned a chance to jump up to the NAHL in 2015-16 with the Coulee Region Chill.
During that season in the NAHL, he posted a 16-10-1 record with a 2.41 goals against average and a .925 save percentage, which ranked 5th in the league. He also played in the 2016 NAHL Top Prospects Tournament. He also committed to Minnesota State that season but decided to sign with the Blue Jackets a year later.
Kivlenieks went 2-2-2 with a 3.09 goals-against average and .899 save percentage in eight career games with the Blue Jackets. He made his NHL debut at Madison Square Garden on Jan. 19, 2020, stopping 31-of-32 shots to beat the New York Rangers, 2-1.
He posted a 33-35-9 mark, 3.31 GAA, .896 SV% and three shutouts in 85 career games with the Cleveland Monsters, the Blue Jackets' American Hockey League affiliate from 2017-21. He represented Latvia at several international tournaments including the 2021 IIHF World Championships this spring, where he went 1-2 with a 2.18 GAA, .922 SV% and one shutout in four games.